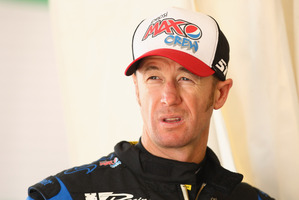 One of the daftest things you can do is to say who was the best motor racing driver of all time in any given category. In Formula One the debate rages on a number of levels.
The same happens in V8 racing and it's madness to say who was the better driver because they did this and that on a particular day, at a particular circuit, in a particular car. There is no way Juan Manuel Fangio could have raced Michael Schumacher's Ferrari to any success. And it's an easy dollars-to-donuts bet that Schumacher would have taken one look at Fangio's Maserati 250F and walked away saying "there's no way I'm getting in that thing and going racing".
We may all have our personal favourites, but it's the record books and their numbers that tell us who is the king when it comes to the best of the best. Cross-pollinating through different decades is fraught with danger, but in this case there is a legitimate trade off between the reliability of yesteryear and the talent pool going at it now.
When crunching the numbers at Bathurst, it may come as a bit of a surprise to a few aficionados of the Great Race that the top 10 masters of the Mount Panorama circuit aren't necessarily the blokes who won the most races. To get an idea about who, heading into this years' event, is the real king of the Mountain you have to look at more than the number of outright wins. Setting the benchmark at three wins to make it into the calculation may seem harsh, but all it means is that the drivers making the cut are not one-hit-wonders.
There are six points of reference that're very important to drivers. Wins of course, then podiums followed by poles, top 10 finishes, fastest laps and in the case of V8 Supercars racing, making the shootout.
So, if you take the success rate of each driver at Bathurst in each category divided by the number of starts and then add those percentages together and divide by six, you get a pretty good idea who might just be the best all around driver.
Of the few who have mastered the Mountain, only three remain racing competitively today. Two full-time drivers (Craig Lowndes and Jamie Whincup), and the other (Greg Murphy) is probably the most successful and experienced co-driver anyone up and down pit lane could hope to have. Lowndes and Murphy will be giving it their all tomorrow in the hope of taking yet another Bathurst 1000 trophy home to keep the others they already have company.
Points
2013 V8 Supercars championship
1. Jamie Whincup 2147
2. Craig Lowndes 2051
3. Will Davison 2050
4. Mark Winterbottom 1981
5. James Courtney 1909
6. Fabian Coulthard 1901
7. Shane Van Gisbergen 1770
8. Jason Bright 1715