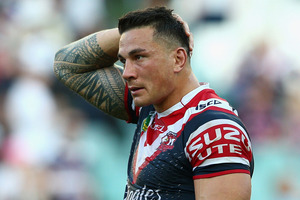 The Chiefs won't hold out any hope that the volatile nature of Sonny Bill Williams will see him announce tomorrow that he's had a change of heart and will indeed be shifting to Hamilton next year.
It might even be that Chiefs coach Dave Rennie, technical director Wayne Smith and New Zealand Rugby Union professional player manager Neil Sorensen got what they were after yesterday in Sydney: a written contract assuring them Williams will join the Chiefs in 2015.
That was what they believed would happen when Williams left for Japan and Australia in August last year. The Chiefs, the NZRU, everyone, really, thought they would get Williams back, but not until he'd given two seasons to the Roosters.
That all changed mid-way through this year when Williams watched the Chiefs at Eden Park and joined them after the game. He is believed to have told his former team-mates, that he wanted to come back sooner. That his preference would be to play for the Chiefs in 2014 - not wait until 2015.
The vibe within New Zealand circles has been strong in recent weeks that Williams was going to be their man again. The vibe in the NRL has been just as strong.
What's become apparent in the last few days is that much noise leaks out of Camp Sonny but it can't be trusted. What no one knows is whether there is a wilful and deliberate plan to manipulate and deceive or whether he really doesn't know what he's going to do right up until the point he actually signs something.
It's hard to believe it is the latter. It's also just as hard to believe his management have a proper handle on what Williams needs to do to fulfil his goal of being the world's greatest cross-code athlete.
It feels more like Camp Sonny makes it up as they go along. That they tell all the various parties what they think they want to hear and all is good as long as there is media interest and speculation.
The problem with that is that Williams may hog the headlines for days at a time, but many a relationship will have been strained in the last few days. Everyone will say not so...but please, no one likes being led down the garden path and that, for the Chiefs and NZRU, is exactly what has happened.