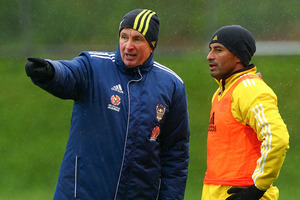 Wellington Phoenix coach Ernie Merrick will sleep on who he will name to play at right back in his side's A-League season-opener against the Brisbane Roar in the capital on Sunday.
Following training today, the Scotsman said he was yet to decide who would fill the troublesome position.
The Phoenix have almost never had a regular right back in their existence and it was hoped Louis Fenton would fill the role this summer but he dislocated his shoulder in a pre-season outing and remains on the sidelines.
Merrick is a known believer in a back four and has three quarters of that equation in place.
"I can tell you who three of the players are,'' he said. "The two centre backs will be Ben [Sigmund] and Michael Boxall and Reece Caira will be at left back and I'll leave the right back decision till the last minute.''
He has narrowed down his options to New Zealand under-20s skipper Luke Adams or Manny Muscat, which would prompt a midfield shuffle.
Muscat was likely to take up a berth in the midfield, where he prefers to play, but new signing Albert Riera could join Vince Lia in the engine room, which would move Muscat to defence.
Merrick will likely make his decision after the team's final training run in Wellington tomorrow.
The Phoenix will have a makeshift look to them this weekend with All Whites Jeremy Brockie, Leo Bertos, Andrew Durante and Glen Moss away on international duty.
All four are regulars for the Wellingtonians in some capacity and their absence has provided Merrick with an early season headache.
"When you have a turnover of half the team or half the squad, jelling together is always going to be a little bit difficult initially,'' Merrick said.
"Once we've played eight or nine games then you're in to it.''
Merrick received some good news during the week though, with confirmation that new striker Kenny Cunningham will be fit, while creative players Paul Ifill and Carlos Hernandez will both be in a position to start after carrying niggles recently.
"This game is going to hang on the midfield,'' Merrick said of this weekend. "If we allow Brisbane Roar to take control and get their passing going in the midfield, they're going to cut up our back four. So it really is how we shut down their midfield and how we create our chances from winning the ball.''
Merrick will deploy three players up front, with Ifill likely to be joined by former Belgian international Stein Huysegems and Cunningham.
Youngsters Tyler Boyd, Hamish Watson, Jason Hicks and Josh Brindell-South will help make up the bench with reserve goalkeeper James McPeake.
All Whites custodian Jacob Spoonly will be in goal in the absence of Moss and Lewis Italiano (ankle injury).
Brisbane always represent a tough challenge with their fluid passing game led by midfielder Thomas Broich, while Albanian striker Besart Berisha is a diminutive prospect.
Former Phoenix defender Jade North is also in Brisbane's squad.
- APNZ