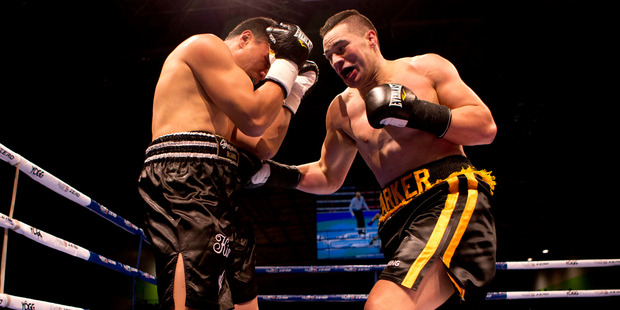 Joseph Parker continued his education in the sweet science with a second-round knockout victory over Afa Tatupu, claiming the New Zealand National Federation Boxing Federation heavyweight title in the process.
It was a short, but extremely brutal fight at Auckland's Trusts Arena _ one of the most bruising of Parker's short professional career. Parker was hindered at the start of the second round with a big cut over his left eye caused by an accidental head butt which could have been extremely serious if the fight hadn't quickly finished soon after the bell.
The 21-year-old finished it with 1 minute 55 seconds remaining in the second round, catching Tatupu with a straight right hand which sent his opponent into the corner before a flurry of punches sent him straight on to his back.
Parker revealed afterwards that his trainer Kevin Barry was worried about his willingness to go toe to toe with the renowned puncher Tatupu.
"What are you doing?'' Barry apparently told Parker. "You're brawling with brawler. I said, `sorry I'll do my best to keep my distance'.
"The plan was to keep my distance but my mind took over in the Samoan way. I wanted to trade punches. Sorry coach, but we got the belt!''
Barry said the referee had warned him the cut could have caused the fight to have been called off. Barry was told Parker had only one more round to do the job, although in truth it would have been a travesty if the fight was stopped, given the damage the youngster did to the 33-year-old in the first round. "It was a really bad cut but I was able to stop the bleeding. I said you've got one round to get this guy out of here and he did,'' Barry said.
The first round began slowly but soon descended into a war, Tatupu catching Parker with a left to the jaw and Parker responded with a right hand.
Tatupu, 10cm shorter than the 1.92m Parker, was breathing hard and swinging with both hands and they were often connecting.
There was some confusion in the final seconds of the first round. With Tatupu almost out on his feet after a Parker barrage, the referee didn't give him a standing eight, rather the final seven seconds went past with both fighters looking at each other.
There was no doubting the quality of the finish, though.
It moves Parker to seven wins from seven and proves he can take a punch, even if his tactics were a little too naive for coach Barry.
However, the cut - which looked more like a chasm - over his eyebrow will hinder Parker for the next few weeks at least. He was planning to see a doctor tonight.
In an often entertaining undercard, Robbie Berridge beat Argentine Mariano Riva with a third-round knockout, another tough and bruising fight in which Riva went through the ropes in the first round.
Berridge, who improved his record to 21 wins, 1 loss and 1 draw, also engaged in a running battle with a member of Riva's corner, which escalated after the fight.
Sam Rapira with to three wins from three when beating Atalili Fai in a third-round stoppage.
Undercard results:
Sam Rapira beat Atalili Fai - third-round stoppage
Julius Long beat Jason Williams - fourth-round stoppage
K'Lee McNabb beat Miriama Smith - split decision
Temuera Morrison beat Boris Sokratov - unanimous decision
Robbie Berridge beat Mariano Riva - third-round KO
- APNZ