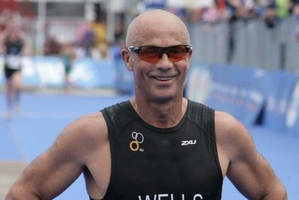 Greetings Rick, it's the Hawaiian Ironman this weekend, one of sport's most brutal events. You're a former world short and long course triathlon champion but competed just once at Kona in 1988 and didn't finish the run. What's your advice to the class of 2013?
Keep your mouth shut and pay your dues on the course. I wasn't tough enough mentally. I had just installed new-fangled aerobars on my bike. The position I sat in wreaked havoc with my lower back. I cramped and couldn't stretch out - throw in heat and wind and it became a real mind game. It'll be particularly tough for New Zealanders who have trained in the winter. There are also parts of the course where you can see the horizon shimmering in the distance. Fans of the sport should put it on their bucket lists. Go and see the carnage. The start was known as "Dig Me Beach" because incredibly fit-looking people would strut around talking about how great they're going to do, but athletes who look supreme on the start line can be crawling and walking by the end.
What are you doing now?
I've been coaching at the Olympic pools in Newmarket for about 20 years; anyone from infants to aged athletes. It's great to work in an industry surrounded by healthy people. Before triathlon took hold, I swam for NZ at the 1982 Commonwealth Games and held the national long course record for the 200m freestyle. I'm also trying to get a triathlon programme called TriKids started in primary schools with [former provincial rugby representative] Mark Weedon. The sport should be a natural Kiwi pastime. It's a way to get kids active and off their backsides.
How hard is it to sustain that programme?
We're hoping we can get more corporate and government sponsorship. We've taken the programme to 20,000 kids in the Auckland region. Ideally it'd go nationwide.
Do heaps of people remember you sporting that 'tache in the 1980s Moro bar ad? "New Zealand's favourite bar by far."
Yeah [laughs]. That and Kiwi Lager were my main sponsors - perfect for a bloke in his mid-20s.
How did you cut those deals?
There was cash involved but plenty of sponsor's product too. Times have changed and people frown on alcohol sponsorship, but ask most young blokes if they'd be happy to be sponsored by a brewery... you know the answer.
How many takes were involved in slinging that bag over your shoulder before casually chomping on the bar?
About 10. You had to have the bar positioned where the branding could be seen clearly as you chewed off a chunk.
Well, it's an Oscar-worthy effort. You looked ravenous. Now, surf boats, how did you get into those?
I started as a lifeguard at Waihi Beach in the 1970s, then years later I got back into surfboats at Muriwai and was still competing in the open class winning medals a couple of years back aged 50. Surf lifesaving in New Zealand is underrated. It's a bunch of young adults capable of administering first aid while also competing in the surf. More should be done to help them.