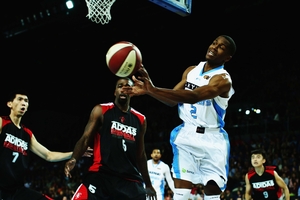 Even if he never met the man, Kerron Johnson is on a first-name basis with the player he's replacing at the Breakers.
But ahead of tonight's season-opener against Wollongong at Vector Arena, Johnson hopes he will soon be able to stop mentioning Cedric Jackson.
Last season's most valuable player has loomed large over the Breakers' preparations as they plot the route to an unprecedented fourth straight title, a spectre Johnson would love to banish at the same time his team are vanquishing the Hawks.
The 22-year-old has heard all about his predecessor from the day he arrived in New Zealand but he has not shied away from the inevitable comparisons. In fact, after a month spent walking in Jackson's shadow, Johnson himself was the one to broach the subject when speaking the day before his debut.
His reply to a query about providing open shots for his teammates - "I think that's something Cedric did great" - was perhaps revealing of Johnson's awareness about his environment.
He knows all too well whom he has replaced and he is cognisant the comparisons are inevitable - at least until he makes a name for himself.
'You understand what situation you're coming into," said the American. "[Jackson] was a fan favourite, you're going to hear his name and there's always going to be comparisons. But I can't let that get to me. I've got to focus on my own job, what I have to do and making my own legacy.
"If they're still talking about him then, obviously, he left a pretty good legacy, so I have to make my own and, hopefully when I do that, all those comparisons will stop."
That starts tonight, after the club raises their third championship banner and retires the number of Dillon Boucher. Once the ceremony concludes, the Breakers will begin to face the biggest test of their Australian NBL dynasty, and Johnson will face his first taste of professional basketball.
It's a lot for a rookie to deal with - the pressures of a title-winning regime, the responsibility of running an offence, the task of creating a first impression that will go some way to erasing the memory of the club's previous point guard.
But new coach Dean Vickerman, facing some lofty expectations of his own, believes the Breakers have found a player who can balance those burdens as capably as he does his play-making.
"For Kerron it was about him taking his time to be able to lead the group," Vickerman said. "I think he's in a position now where he's comfortable leading everybody and calling the plays that are appropriate for people.
"You need people that can just go and beat people one-on-one, so knowing that he's able to do that is pretty important, [and] on given nights he's going to score a little bit more but, obviously, the assist numbers are extremely important for us."
As the pre-season progressed, Johnson's assist tally grew, indicative of a player becoming more familiar with both his new teammates and his role in his team's system.
"I think that's the job of a point guard - to be that total package, to be able to get your own shot when you have and be able to get other guys shots," he said. "The ball's in your hand 75-80 per cent of the time - you have to be a play-maker to get these other guys shots, which is something I'm really focused on."
And if that approach works well against Wollongong, the Breakers' focus will undoubtedly shift from what is missing to what they now have.
Five things needed to keep title
New style for new rules
The ANBL wants a product more attractive to television audiences, which means higher scores and, consequently, a reduction of one of the Breakers' biggest strengths. The champs - so adept in the past at edging physical, tightly-fought contests - must now find a balance between retaining their hard-nosed approach and not falling foul of new rules limiting contact.
Big year from the big man
His coaches often say he has the ability to dominate the league and this season would be a good time for Alex Pledger to prove them right. The big man got even bigger in the off season - putting on 6kg to fill out his 2.13m frame - and an enhanced offensive output from him down low could help to account for Cedric Jackson's departure.
Made in America
Of course, the man who holds most of that responsibility is Kerron Johnson. The 22-year-old, along with utility man Darnell Lazare, will need to continue the Breakers' recent fortune in finding value in their import spots. Johnson need not be a Jackson facsimile but help his compatriot and have to carry a significant load.
Replacing the irreplaceable
Dillon Boucher's 2.8 points per game won't be too hard to recoup after his singlet is raised to the rafters. But Boucher's knack of making his teammates better, his fixation on winning, his been-there, done-that attitude? Those intangibles will be missed.
Stay steady if it turns sour
The Breakers averaged just under six losses a season during their three championship-winning campaigns. That number may rise but the Breakers don't need to be a juggernaut to take the title. They do, however, need to bounce back from losses, something at which they have had little practise.
- APNZ