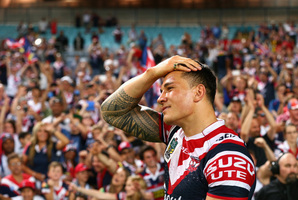 You have to feel for Tohu Harris but one day he might understand the NZRL did the right thing by replacing him with Sonny Bill Williams in the Kiwis World Cup squad.
Harris was yesterday named in the original 24-man squad to play in the World Cup. He would have felt on top of the world and hoped he could play a big part in keeping the Kiwis there.
This morning, however, he was delivered the awful news he was being replaced by Williams.
It was the only thing the Kiwis selectors could do. They are duty bound to pick the best squad available that will give them the best chance of defending the title they won in 2008. They would be mad to overlook Williams.
The decision has not left a stain on them or the national body. The only ones who should cop the flak are Williams and his manager Khoder Nasser but they seem to have broad enough shoulders to cope.
After all, Williams walked out on the Bulldogs. It would have been easier, and less controversial, if he stuck by his original decision and skipped the World Cup but he admitted he didn't think through the situation properly and realised how much playing for New Zealand meant to him.
It lends weight to his utterances that he wouldn't make a decision on the World Cup until after Sunday night's grand final. It was naive and ill-advised of him to wait so long, especially with such a short window between the grand final and the squad announcement when emotions were always going to be skewed if he had won or lost.
The 28-year-old's backflip could also have something to do with the fact he wants to leave behind a legacy in sport. He has won a rugby union World Cup, two NRL titles, a Super Rugby title and a heavyweight boxing title and a rugby league World Cup would only enhance his standing. He's also played only seven tests for the Kiwis, with his last in 2008, and never been on the winning side in a black-and-white jersey.
He has the chance to become the first cross-code athlete to win both rugby union and rugby league World Cups. Imagine if he then won another rugby World Cup in 2015.
That kind of legacy is not something he will achieve in boxing, which is why he should dispense with the sport. It's incredibly difficult to see him ever winning a world heavyweight boxing title and it's interfering in what he is actually phenomenally good at - playing one of the rugby codes.
The Kiwis' chances of retaining the World Cup improved this afternoon. The rest of the Kiwis squad will feel for Harris, and there might be a couple who oppose the move, but the majority will feel more excited and energised. His presence does that to teams.
They will still go in as underdogs but Williams' involvement will worry the opposition - hopefully even Harris can accept that.
- APNZ