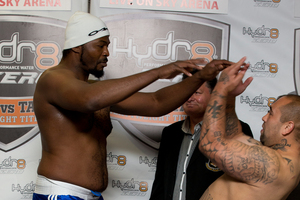 The respect between Joseph Parker and Afa Tatupu ahead of their title fight tomorrow was plain to see at today's weigh-in, but that didn't extend to the protagonists of one of the undercard bouts.
Julius Long, the 2.16m American who is in Auckland sparring with David Tua, began a shoving match with his opponent Jason Williams, a former NRL player, which brought a jarring note to what had been a light-hearted affair hosted by veteran boxing commentator Colonel Bob Sheridan.
Long, nicknamed the "Towering Inferno'', posed for pictures with Williams before shoving him across the stage, shouting: "That's what it is.''
A visibly upset Williams went to confront Long before the pair were restrained by several others on the stage, including Parker's trainer Kevin Barry.
Afterwards Long said it was a tactic designed to unsettle his opponent.
"I just wanted to let him know what he was getting himself into - be ready, bring your A game because I'm ready to take your head off. This is real,'' he said.
"I've got the edge because I know he wants me. Anger is a person's weakness.''
Williams said afterwards: "I think a few Americans are like that - showboating and stuff.
"We're going to fight in the end anyway so there's no use doing something like that.''
Williams said he had lived in Australia for 10 years while he played for the Bulldogs and Sharks but was now living back in Auckland and was boxing as a "hobby''.
A fit looking Parker, who is challenging Tatupu for his New Zealand National Boxing Federation heavyweight title at Auckland's Trusts Stadium, tipped the scales at 104kg, with Tatupu weighing 99.75kg.
Long is preparing Tua for his postponed fight against Alexander Ustinov, who stands 2.02m.
- APNZ