Test against Diamonds shows long-time goal shoot has a real rival.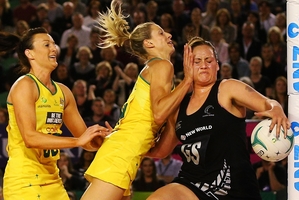 It's not the end of the road for Irene van Dyk but the veteran shooter may need to adapt to a different role in the Silver Ferns set-up.
Monday night's Constellation Cup match, which saw Cathrine Latu play all four quarters for just the second time for the Ferns, feels like a seminal moment.
Throughout her incredible career van Dyk has rarely, if ever, had a rival for the goal shoot bib. Now in her twilight years she has a genuine challenger - and may have to accept more time on the bench.
"I can see a genuine battle between them in the future," says Silver Ferns coach Wai Taumaunu.
It's great that we have two shooters who are able to cope with 60 minutes against Australia because it has been years since we have been able to say that.
Latu, 27, was marked as the heir apparent for many years but when she finally made her debut in late 2011, she struggled against the Diamonds and van Dyk has remained the go-to girl.
But in this series the 41-year-old van Dyk hasn't be able to maintain a dominant presence across four quarters, and was worn down and shut out by the Australian defenders. Latu has much to improve upon but coped particularly well with the physicality on Monday night.
"Irene has been around for a long time and her game is well known," says Taumaunu. "It's only been one test but Cathrine did hold up to the physicality of it all on Monday night so we'll see."
Before Monday Latu had played only 19 quarters of netball in her 10 tests and a total of just seven quarters against the Diamonds across two years. She drifted out of the game in the second quarter, shooting just three goals from five attempts but improved across the match. The Ferns' attack line peaked in the final quarter, outscoring the Australians by 16 goals to 11.
Van Dyk remains the sport's best clutch shooter and her movement and ability to retrieve a pass from anywhere are second to none. She might appeal as a great option off the bench, coming on after Latu has absorbed some of the punishment.