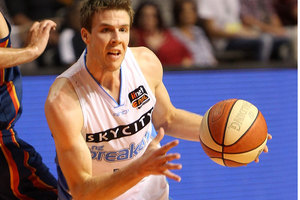 For the first time since Paul Henare cut down the nets to celebrate their maiden title, there are serious questions surrounding the Breakers' championship credentials.
With history going against them, they are not the bookies' favourites, nor the front-runners for many fans. They will begin the new season tomorrow without their accomplished coach, finest player and most invaluable veteran.
Much like Tiger Woods in his prime, there has been a concerted effort from the game's governing body to diminish what the Breakers do best. Rule changes have helped to close the gap between the Breakers and the pack, a gap further decreased with some savvy recruitment by their rivals.
But if anyone thinks any of these factors will faze the defending champions, they haven't been paying attention for the last few years.
These Breakers are accustomed to losing key players, familiar with watching imports walk out the door.
New coach Dean Vickerman has been preparing for his promotion since he and Andrej Lemanis first linked. And their roster, stacked with talent, remains one of the league's elite.
It would surprise no one if, come April, the Breakers and Perth do battle for a third straight finals series, and it would hardly be shocking if Henare, now an assistant coach, is able to add another section of net to his collection.
But the obstacles the Breakers must overcome to turn that vision into reality are what makes this season the most intriguing in their reign atop the Australian NBL.
Chief among those obstacles will be the bedding in of two new imports, with crucial contributions required from both if the Breakers are to become the first side in the history of the competition to claim four straight crowns.
That is particularly true of Kerron Johnson, the 22-year-old guard straight out of school. Much has been made of the task facing the American - replacing the talismanic Cedric Jackson - but the Breakers can survive, even thrive, without Johnson filling a box score the way his predecessor did with aplomb.
The Breakers have never been built in a way requiring one man to do the job of many. Jackson certainly took over games in his MVP campaign - as did Kirk Penney before him - but the Breakers are at their best when they have numerous players reaching double digits.
Johnson has surely been told as much since arriving from Belmont University; nothing good can come of a young man in his first professional job attempting to exceed his abilities.
He may not win games on his own, as Jackson constantly threatened, but he has already shown signs of improving those around him - paramount in a pure point guard. In the pre-season, Johnson demonstrated a knack for finding open teammates and, when he did keep the ball in hand, his speed in the lane was especially difficult to defend under modified rules limiting physical play.
Even if the Breakers were weakened by Jackson's departure, the arrival of Darnell Lazare went some way to accounting for the disparity. Playing for Sydney last year, Lazare scored 11.3 points per game - trailing only Jackson at the Breakers - and had rebounding numbers matching the club's starting centre Alex Pledger.
He is a greater offensive weapon than Will Hudson and, switching between power forward and centre, he will improve the second unit to the point of pushing for a starting spot.
Factoring in a full pre-season for a fully-fit Tom Abercrombie, another year of experience for Pledger and the continual progression of Corey Webster's game, another ring is a real possibility.
But it won't be easy.
- APNZ