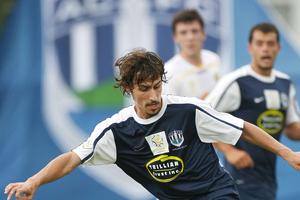 The Wellington Phoenix might have lost their pre-season match against Auckland City but they gained something in the form of Spanish midfielder Albert Riera.
The Auckland City midfielder was invited to Wellington to trial for the Phoenix after impressing in the 1-0 win at Kiwitea St and today signed a one-year contract. He fills the final of five import spots in the squad, alongside Paul Ifill, Carlos Hernandez, Stein Huysegems and Kenny Cunningham, and brings the total number of players to 20 on the eve of Wellington's A-League opener against Brisbane at Westpac Stadium on Sunday.
"Albert really stood up in that game and signing him gives us cover in midfield which is vital,'' Merrick said. "He is a ball winner and his passing is first-class. He rarely gives the ball away and he will bring composure and on-field maturity to an important position.
"I had been looking for someone like Albert for a while because the modern game puts high physical demands on players, especially in midfield.
"On top of that we face some challenges other A-League clubs don't have in that we often lose our All Whites on international duty.''
Riera was today finding it difficult to comprehend what has happened to him over the past seven days and is determined not to waste the opportunity he has been given. He had been preparing for Auckland's tilt at the ASB Premiership as well as December's Club World Cup in Morocco.
"I am still shocked because it has all happened so quickly,'' Riera said. "All I was focussed on was doing pre-season with Auckland to get myself fit for the coming season.
"When I spoke to Ernie and got to training I understood what he wants from me and I want the same things. I like the way he wants to play and know I can fit in with the team.''
When Riera arrived in Auckland almost three years ago, the last thing on his mind was playing football, especially not for a living.
"In Spain I was a paramedic and played semi-professional football,'' he said.
"It was hard work fitting in my job and training and it got to the point where I felt I needed a break. I decided to take a year off and do some travelling with friends.
"That was how I ended up in Auckland and now I am a professional footballer. How good is that?''
- APNZ