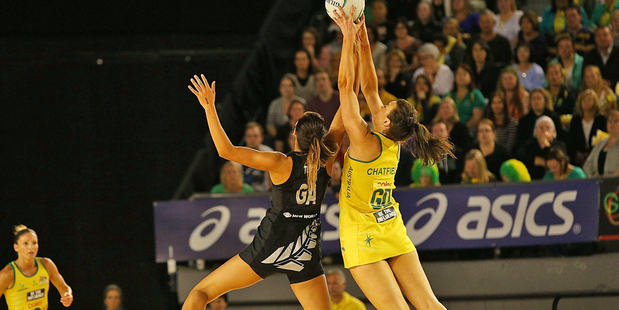 It's not an win - but for Silver Ferns coach Wai Taumaunu it was the next best thing. Considering her team created an unwanted slice of history last night, Taumaunu was in remarkably good spirits following the 52-47 defeat in Melbourne.
The loss means that the Ferns cede the Constellation Cup - which they had only won for the first time last year - and the three consecutive defeats is their worst losing run since 2009.
The Ferns were in touch at half-time (26-21) last night but let the game slip in the third quarter, replicating the flat periods after half-time in both Auckland and Adelaide.
However Taumaunu was buoyant after the match and rightfully so, as the Ferns could take away plenty of positives from the fiercely fought encounter.
"We had a patch in [the] third quarter that was pretty forgettable but I was very pleased with the fightback," said Taumaunu, referring to the fourth period, where at one stage the Ferns cut a 11 goal deficit to just three.
Unlike in the previous two games the Ferns looked like they meant business from the outset last night. They had confidence in each other, brought back some physicality that had been absent and at times showed the Australian machine to a crawl.
"We showed good presence and intent," said Taumaunu. "We wanted to slow the pace of the Australian ball as much as we could, which I thought we did. Australia are a good team and they had some patches but they were patches rather than long periods of time. We didn't play well enough to win the game but it is something to build on."
The Ferns reverted to a zonal defence which was highly effective, especially in the first two quarters. At times the Diamonds more resembled Malawai, as they were forced to repeatedly go sideways and backwards just to retain possession, with no targets further up the court.
On attack the Ferns had a mixed night. Cathrine Latu did some impressive things in just her second start at this level (indeed before last night she had played just 19 quarters in her ten tests) and rattled the Australian defenders at times. But the combination between her and the midcourters is in its infancy, which led to plenty of misreads and errant passing and only 25 goal attempts.
Maria Tutaia (26/32) carried a lot of the shooting and feeding load and had a polished night while wing attack Shannon Francois showed immense potential in just her second start.
"It probably took three quarters to settle a young attacking line down so I was really pleased with how they came through that fourth quarter," said Taumaunu, of the final 15 minutes where the Ferns outscored their opponents 16 goals to 11. "Now [in Canberra] we need to build on that fourth quarter when we were starting to fire."