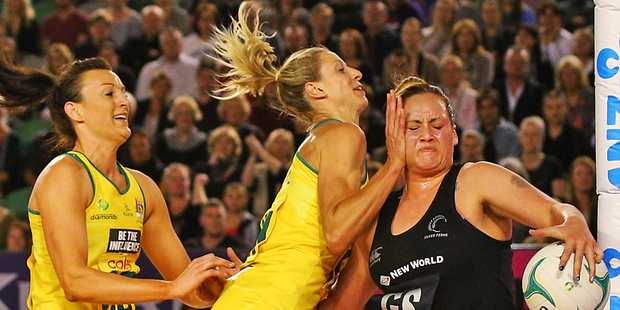 Silver Ferns shooter Catherine Latu thought that "a fight" was on the cards at one stage during last night's fourth test, such was the physicality and simmering tension throughout the contest.
The match, won 52-47 by Australia to clinch the Constellation Cup, was easily the most physical of the series so far, as bodies smashed into each other, with no quarter given.
Latu was at the centre of much of it, often engaged in a running battle with Australian captain Laura Geitz.
Neither player backed down, as the umpires struggled for control and the local fans voiced their disapproval.
At one point in the second quarter, after a series of exchanges which included Latu being tackled to the ground (by Bianca Chatfield) in the kind of collision you might see at the nearby Melbourne Storm, and soon afterwards being advanced ten metres after showing some dissent after another incident, the Silver Fern shooter called for a timeout.
She wanted some attention on her hand, that had been twisted backwards, but mostly Latu realised it was time to hit the pause button.
"I thought we were getting into a bit of a fight and I didn't think that was going to end well," said Latu after the match. "The best thing to do was to call time and let it settle and then start again."
Latu, who is never known to hold back on the court, seemed a little surprised that the rugby style tackle by Chatfield went unnoticed - or at least unpunished - by the officials.
"It was definitely a straight bowl [over]," said Latu, who saw the funny side after the game and was neither bitter nor bemoaning. "It was like a [league]tackle. There was kind of a domino effect from there so I used the time out to try and stop that."
It wasn't all shoves and scrapes, handbags and hits. Both Latu and Geitz produced some fabulous netball and it was a classic duel. The Australia skipper was relentlessly physical, and gave as much as she got.
"She's very Australian," said Latu of Geitz. "There is no other way to put it. They are all like that - all very tough and it is the way that we react to it. We just take too long to move on and we need to do that better."
Latu was shut out of the game in the second quarter (3/5) but probably produced enough in the other three periods (6/6, 5/6, 7/8) to warrant further game time in Canberra on Sunday.
"It's a big step, a big learning curve for her," said Taumaunu. "To play against Australia and that quality of defence and do as well as she did.....I'm really proud of her."