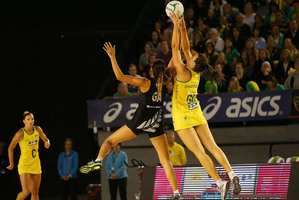 Australia 52 New Zealand 47
This was more like the Silver Ferns we have come to know. It wasn't quite the result required - but this was a performance full of passion, heart and energy, if a still a little untidy.
The Ferns relinquish the Constellation Cup, but will head to Canberra with renewed heart, knowing once again they match up well with the Australians.
Cathrine Latu impressed in an immensely physical contest and Shannon Francois did well in her second start.
It was an incredible contest, and one that may have implications that go beyond this series. At times the umpires seemed to lose control, and we saw some genuine dissension - as Latu was advanced 10 metres and Casey Kopua openly questioned some umpiring decisions.
It's not completely the officials fault - as they come from doing amateur netball in second tier nations to the most competitive, high quality match in the sport.
Something needs to be done, as the current situation could lead to carnage in Glasgow.
Nevertheless it was a riveting spectacle and the physicality reached new heights. Bianca Chatfield smashed through Latu with a tackle that the neighbouring Melbourne Storm would be proud of, Natalie Medhurst threw the ball at Kopua's face (accidentally) and Latu came up with a shoulder check that Sonny Bill Williams used to be proud of.
Amidst the crash and bash, there was some great netball. The Ferns switched to a zonal defence, with great effect, Laura Langman and Francois combined well and Maria Tutaia had one of her best all round displays in some time. Latu made her presence felt and certainly wound up the local crowds - generating cries of "She's been doing it all day ref", commonplace in league or rugby but possibly a first in netball.
Her combination with Langman was lacking at times and Geitz began to get on top in the second half. However Latu showed enough - in just her second full game for the Ferns - to suggest that she is now a genuine alternative to Irene van Dyk.
Katrina Grant and Casey Kopua rattled Caitlin Bassett at times, for the first time this series, but Medhurst was all class and often the difference with her deft touches and movement on attack.
At the Rod Laver Arena, where there hasn't been a New Zealand sportsperson here since Brett Steven at the Australian Open both teams also came up with some delicate touches that Roger Federer would be proud of.
Both teams struggled to hear - or make sense of - the calls from the umpires, amidst the incredible noise inside the stadium. Trinidad and Tobago umpire Terence Peart bears an uncanny resemblance to Lamar Latrell from the Police Academy movies and unfortunately shares his low talking voice - at one point Latu was heard to say "Who are you talking to?" after a penalty call.
For the first time since Invecargill the Australians, and especially Caitlin Bassett, looked rattled at times during the first quarter but they since led 12-10 at the break, as the Ferns were wasteful in possession.
The Diamonds edged further ahead to lead 26-21 at half-time. Continuing a pattern from this series, the third quarter was pivotal as the home side outscored the Ferns 15-10. The visitors came storming back in the final period - dragging the margin back to three goals for long periods but the Australians held on for a popular win.
Quarter breakdown: 12-10, 26-21, 41-31, 52-47
Shooting: Latu 21/25, Tutaia 26/32, Bassett 40/44, Medhurst 12/14