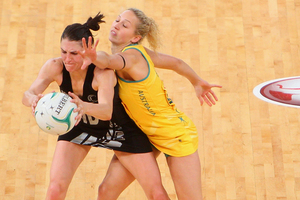 After being whistled out of the third test last Friday night, adjusting to unpredictable umpiring calls needs to be a major focus for the Silver Ferns tonight.
The plethora of penalties in the last match doesn't suffice as an excuse for the performance or the result - a dominant Diamonds side thoroughly deserved their victory in Adelaide - but the constant infringements from the Ferns negated the small patches of momentum that they had in that match.
Given their crucial role (in no other team sport do the officials have such a constant and critical influence on the action) umpiring is always a tricky aspect of these trans Tasman contests.
The neutral umpires from second tier nations struggle to cope with the sheer speed of the game, while the players can find it difficult to adjust to a different style of officiating than they have during the ANZ Championship season.
With a new set of umpires (from Jamaica, Trinidad and Tobago and South Africa) for the Australian leg of the series there were some unusual interpretations last Friday night, including numerous penalties against the Ferns for technicalities around the centre pass.
"There were some funny calls the other night," said Silver Fern mid courter Joline Henry.
"We counted about 11 of them - so if we put that into perspective - in terms of the swings to each team that is potentially 20 goals. If can get on top of the way the umpires are calling and their interpretations, then we will be right in the contest."
Ferns coach Wai Taumaunu was clearly exasperated by some of the calls in the third test, though she refused to criticise the umpires after the match. Taumaunu is a avowed supporter of neutral officials and believes it is the only way forward but admits varying interpretation is a major issue at the moment.
"It's aways tough to play in Australia and we are not as familiar with [this set of ]umpires," said Taumaunu. "Some of the things were really unexpected the other night. To get [possession] taken off you for judgement calls is something that we just hadn't anticipated."
Meanwhile, Henry maintains that the spirit and belief in the Fern's camp remains high, despite being outplayed in Auckland and then blasted off the court in Adelaide.
"The confidence in the team is good," said Henry. "Each and every one of us still have great confidence in our abilities as individuals. We have it in each other, but we need to demonstrate it more out there on court and have faith that the person out beside you will do the job."
The Ferns will be desperate to avoid a third consecutive loss to the Diamonds tonight, which would be their worst sequence since 2009. The match is scheduled to start at 10.15pm (NZT) tonight.