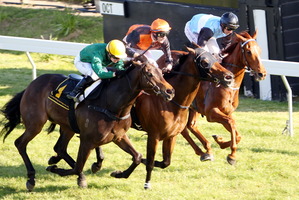 Awapuni horseman Gary Vile says the reason he hadn't trained a group one winner before Ransomed on Saturday is that he has sold all his good horses before they had group aspirations.
Ransomed was meant to be one of them. Watching him nose out Nashville and Survived in the $250,000 The Turks Spring Classic at Hastings, Vile was reminded of a moment which at the time was a huge disappointment to him.
Ransomed failed a veterinary inspection for a sale to Sydney trainer Chris Waller.
"Chris offered us good money for him when he was coming up through the grades, but he had a few issues with his fetlocks and Chris decided not to go through with the sale.
"I was very disappointed at the time - now I'm delighted."
If there is one thing Gary Vile enjoys more than selling horses for high prices it's simply training them.
"I never wanted to do anything but become a horse trainer."
But he had no stake to set himself up. His father told him: "You're too big to ride them so you'd better start shoeing them."
Vile served a blacksmith's apprenticeship with Bill Pratt at Woodville, while working at the freezing works.
He leased a filly as his first racing venture into training himself and it turned out to be Noble Times, a four-times winner as the country's champion 2-year-old before she was sold to the United States for huge money.
"I owned half of her and what I got for my half you could have bought a dairy farm at the time."
Vile suddenly had his stake and waved bye-bye to the freezing works.
It's a decision he's never regretted.
"It's difficult at times when you see good horses injured and leave the stable. There are times when you get so disappointed you could give it all away, but times like this more than make up for it."
Like most of us, Vile wasn't sure Ransomed had beaten Nashville.
"I was hoping, then Mark Hills said: 'You've got it mate,' and then I was sure. You can generally rely on a jockey's opinion in close finishes like that."
It was also a first group one victory for rider Jonathan Parkes.
He gave racing away for a period and since returning he has enjoyed the best luck of his career.
"I know he was $30 on the tote, but I rated him a genuine chance after he slipped on this track on the middle day. I told Gary to forget that beaten run."
Nashville ran a huge race, as did Survived. Without blinkers Nashville raced like a slug for the first half of the race, tailing off by two lengths.
Rosie Myers had to make a long searching run to get him into the race, which he did admirably, but it left him without the necessary energy for the final 50m. He got a long neck advantage on Ransomed, but the other horse outgunned him.
The luck that landed Hayden Tinsley the Survived ride completely deserted him once the barriers opened.
Tinsley can be proud of the habit of conserving energy in his mounts, but got parked three wide throughout on the hot favourite.
Survived ran clear at the top of the straight and the surprise was that he lasted long enough to finish a close third. His was unquestionably the run of the race.