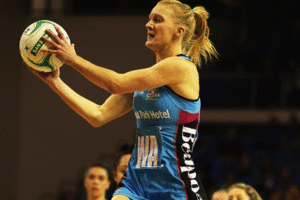 If there was one positive to come out of Friday night's dismal display in Adelaide, it was the performance of Shannon Francois.
Thrown onto the court in the second half with the Ferns trailing by a significant margin,
Francois had a tidy, energetic debut and even came up with a couple of intercepts.
She combined well with Laura Langman - the two had never played together before - and at least allowed the Ferns to get some pride back, as they 'won' the final quarter by 16 goals to 11.
"It was extremely exciting," said Francois of her debut. "It took me a little bit [of time] to get used to it to the pace of it [but] I was supported by everyone on court and they made it a lot easier."
It wasn't ideal circumstances to play your first match for the Ferns - and in the past debut games against Australia have been rare - but Francois follows Courtney Tairi in this series in taking her first bow in a trans Tasman encounter.
"I was just thinking - don't drop the first ball," laughed Francois of her initial feelings as she stepped on to the court. "[I was telling myself] just get the first couple of passes underway, do my job and the rest will follow. I have learnt a lot from that game and I will take that into the next one and improve hopefully."
Francois was a late call up for the tour, as coach Wai Taumaunuu decided she needed more cover in the midcourt area. She had hoped to use Francois, depending on how the series unfolded, but her appearance on Friday came sooner than anticipated.
"I was really pleased with her," said Taumaunu. "We had a chat before the game and talked about some tasks and she stuck to them really well. She did a great job."
Francois presence on this tour is a reward for making the most of every opportunity. She was already in the wider Ferns squad and was hardly an unknown but impressed the Ferns coaching staff in a practice match between Otago and the Ferns before the first test in Invercargill.
That performance was enough to put her firmly back on the radar of Taumaunu and she may now have shuffled ahead of Tairi and Anna Thompson in the battle for the wing attack position.
Meanwhile, the Ferns completed an intense practice session in the plush surrounds of the Collingwood AFL training complex today, which is probably the most impressive club facility in Australia.
Almost the entire session was focused on the attack through the midcourt and shooting, which were the two major issues from last Friday's loss.
Defender Leana de Bruin took almost no part in training today and remains unlikely to start on Monday night, while Cathrine Latu and Irene van Dyk shared equal time at goal shoot, with Taumaunu keeping her options open in that position.
Tomorrow's match, to be played at the Rod Laver Arena, starts at 9.35pm (NZT).