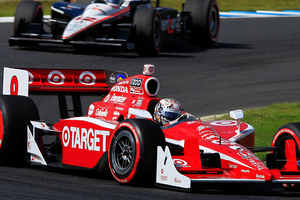 Scott Dixon made the opening race of the Houston Grand Prix a Penske Racing nightmare, grabbing a series-best fourth victory while slicing a huge chunk off Helio Castroneves' lead in the IndyCar championship race.
Dixon, who entered Saturday's race trailing Castroneves by 49 points, cut his deficit to eight points heading into Sunday's race. A sweep of the doubleheader through Reliant Park would put the New Zealander in control headed into the Oct. 19 finale at Fontana, California.
"I hope they are worried, man. That's a 41-point turnaround,'' he said. ``Hopefully, we can have another good race (Sunday). It would be nice to be in the lead going into Fontana. To have a little bit of a buffer would be really nice.''
It was the 33rd win of Dixon's career, and one more would tie him with Al Unser Jr. for sixth on the IndyCar list.
Dixon was aided by the first mechanical problem of the season for Castroneves, who had been the only driver to complete every lap this year entering the race. But a gearbox problem just 22 laps in Saturday sent him to pit road.
It took nine laps before Castroneves got back on track, and he wound up 18th.
"We are still leading,'' he said. ``It's a shame. Those things are outside of our control. I wasn't sure they were going to be able to fix it and when they did, I just went out there and tried to learn the track as best I could. I changed my mode to `What can I do to learn for race No. 2?'''
The Penske team also ran into trouble when a slow pit stop for Will Power allowed Dixon to take the lead.
"It was very disappointing with not being able to keep the lead in the second half of the race,'' said Power, who wound up 12th because of an ill-timed yellow flag.
Simona de Silvestro finished a career-best second to earn her first IndyCar podium in her 63rd start. Justin Wilson was third in his fourth podium finish of the season.
"Well, finally,'' de Silvestro said. ``We've been waiting for this for a long time.''
IndyCar's first race in Houston since 2007 got off to a rocky start when a bump was discovered in the first turn when they cars hit the track for the first time Friday. Because the promoter could not start building the course until after a National Football League game on Sunday, IndyCar had no access to the track and a course that usually takes several weeks to build was completed over several days.
Qualifying was postponed Friday and crews used a grinder on the surface all night to try to smooth the bump down. It was still rough, though, and IndyCar decided it could only do single-file restarts for the two races.
Then the race itself got off to a bizarre beginning when James Hinchcliffe stalled on IndyCar's standing start.
He was lined up in the third row, and cars had to dart around him to avoid a massive collision. Ed Carpenter wasn't so fortunate, however he ran into the back of Hinchcliffe's stalled car.
"It was tough to see with the other cars right in front of me. Just a tough break,'' Carpenter said.
The race immediately went to caution with pole-sitter Takuma Sato out front until he had to pit on lap seven with a flat tire.
That turned the lead over to Power with Dixon right behind him. The two have had issues in IndyCar's last two races, and it's been magnified because Dixon is racing Power's teammate for the championship.
The race took another sudden turn when Castroneves headed to pit road on lap 22 with the gearbox problem. And it went from bad to worse for Penske moments later during green-flag pit stops. Dixon headed in before Power and his Ganassi crew got him out in 7.4 seconds.
Power then made his stop as Dixon was racing around the course, trying desperately to circle the track before Power exited pit road. Dixon did it in part because the Penske crew needed 9.2 seconds on a troublesome stop for Power.
With Dixon out front, he had control of the race and the points lead in his sight.