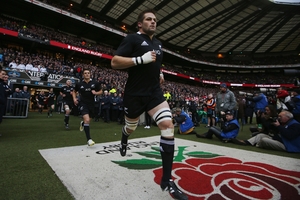 The Rugby Football Union confirmed yesterday that New Zealand would launch next year's autumn series at Twickenham - the last round of cross-hemisphere matches before the home World Cup in 2015.
It was not quite such a show-stopper as the governing body made out because the All Blacks, for so long one of the biggest box-office draws in sport, are in danger of being over-exposed. England are about to face them five times in less than a year they take them on in London next month and play three tests in the Land of the Long White Shroud in June. As a consequence, what was once cherished as a jewel in the game's crown has diminished so much in rarity value that it is mere common currency. More than half a century separated the first and fifth games between the two. Until the late 1990s, meetings were relatively rare. Now, they are two-a-penny.
South Africa, who will also visit Twickenham next year, are every bit as familiar, while Australia, who open this autumn's programme and will be on the list yet again in 2014, seem to play here every other weekend.
In many respects, the fourth of the teams pitching up in the capital in 13 months time - the increasingly threatening Samoa - are the most interesting opponents of the lot.
During this week's launch of the doomed Heineken Cup, one senior establishment figure reminded his audience that international rugby is still the financial driver of the sport. But others take the view that there are far too many tests between too few major teams and that inertia is becoming a serious problem. Unfortunately, the top-heavy fixture list has found its way on to rugby's hard drive and no one in authority knows how to delete it.
- Independent