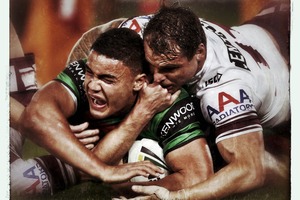 The Sydney media has wanted a grand final containing two local teams; but more specifically they desired the involvement of the South Sydney Rabbitohs. The history of the club, the length of time since their last appearance and, dare I say it, the love affair with the Burgess family, is a perfect recipe for a story.
Forget about the way they have played this season; the stories have focused on the peripheral. Every week for the last eight has seen justifiable articles about the team and their chances in the finals series. However, a number of stories have been about anything and everything the club has done in its history.
They have relived the glory days of the 1960s and '70s with club legends John Sattler and Ron Coote and covered their previous 20 premierships since inception in 1908. They've highlighted the dark days rooted to the bottom of the table, the loss of high-profile players to other clubs because of financial difficulties, the Super League war and the exclusion of the club from the competition in 2000-01 while holding the mantle "the pride of the league".
This title is self-proclaimed, it has grown legs and was the slogan at the forefront of their fight to be reinstated . The stories about the Burgess family bordered on boring as the media created stories where their names, individually or as a collective, were part of a daily soap opera. The inclusion of their mother was another angle; she has become a celebrity. The stories were built to a crescendo where the fairytale was set to come true. Unfortunately the Sea Eagles ruined the ending.
This week in Sydney the emphasis is always on the NRL grand final but, even with SBW involved, it has not generated the normal hype. The Sydney media has lost interest and the coverage appears obligatory now the Rabbitohs are out. Maybe Johnathan Thurston was right in his claims that teams outside New South Wales or Sydney were little chance of making the big one. Maybe there has been a push by certain sections of the game to influence an outcome where the perfect opponents qualify for the grand final. To me, the money has always been on a Rabbitohs-Roosters dream finale for the media and the administration. Two foundation clubs squaring off for supremacy is a marketer's dream and a resurgence of dominance in Sydney is what some power-brokers desire. Manly threw the spanner in the works. Everyone loves to hate Manly and the Roosters are quickly gaining notoriety for the same reason, but the only opposition supporters backing Manly will be the Rabbitohs ones because they despise their neighbours.
That's why I 'want' the Roosters to win.