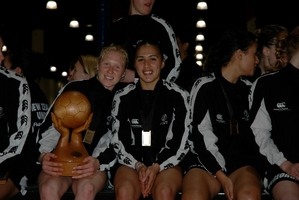 The first steps to greatness for many current Silver Ferns took place in Florida seven years ago.
Better known for alligators, stone crabs, retirement homes and beaches, in 2005 the state hosted a frenetic 10 days of netball, the world youth championships.
New Zealand featured Casey Kopua (nee Williams), Maria Tutaia, Katrina Grant and Anna Thompson, and were captained by 19-year-old livewire Laura Langman. The squad included Te Huinga Reo Selby-Rickett, Liana Leota and Grace Rasmussen.
They were to become a golden generation for the Ferns, despite the odd glitch like the 58-50 loss to Australia on Friday night in Adelaide.
"I guess a lot of the links we have now started then. They have been almost burned into our subconscious," Langman says. "It was one of the most intense tournaments I played in."
Says Kopua: "Having played together for so long we have become like an extended family. [The tournament] was a great launchpad and it showed what could be possible."
Coach Te Aroha Keenan recalls they created an incredible bond. "You can still see that togetherness."
All but two of that side represented their country at senior level, with Langman, Kopua, Tutaia and Grant accumulating 284 caps between them. The transition from youth to senior level rarely happens so smoothly. The New Zealand side at the 2009 world youth championships is an example; only Kayla Cullen has graduated to become a regular Fern.
The value is immense. The ball speeds across the court - passed from Kopua to Langman to Tutaia - travelling via deeply spun threads.
Grant agrees the experience helped when first coming into the Silver Ferns. "It was good to see players you were familiar with."
Back in 2005, the team suffered an early setback when Kopua ruptured ankle ligaments at training and was in doubt for the tournament. With five days of physiotherapy she could play in the semifinal and final.
Meanwhile, the team adapted to Fort Lauderdale. Inquisitive locals would wonder about this group of tall females, wearing custom-made t-shirts with jandals on the sleeves and 'Black Attack' on the front, as well as caps with 'Bring It' emblazoned on the front.
"People thought we were basketballers, or soccer players or gymnasts," Kopua says. "It was hard explaining our sport."
Local shops and spectacular beaches were sampled but little time was spent outside netball.
The team had talent - they beat Queensland on their way to the US - but the traditional foes stood in their way. Australia included Laura Geitz, Natalie Medhurst and Kim Green and were favourites.
"The rivalry was immense," Langman says. "[In the three years] before the tournament we had never beaten them, though it was always close. It was a big hurdle."
The transtasman rivals progressed undefeated but a quirk in the draw saw them meet in the semifinal.
"We thought our road would be cut short," Langman says. "It turned out to be an epic battle."
The teams went goal-for-goal in the first half, before a power cut extended the halftime break to more than 20 minutes. They couldn't be separated until late in the second half.
For Keenan it's still vivid. "In the last minute Maria Tutaia missed from about a metre. She wasn't known for her defensive work then, but she managed an intercept to regain possession and score the winning goal. It is one of the most spine-tingling games I have watched - unforgettable."
The Ferns led after each quarter - 14-10, 26-24, 38-37 - and finally prevailed 52-51. The final was a relative procession, as they easily accounted for England 53-39.
The class of 2005 helped claim more glory in Melbourne (2006) and Delhi (2010), although the 2011 world championships remain a regrettable miss. Still, they have the chance to claim a third Commonwealth title next year and are likely to be around for the 2015 world champs in Sydney.