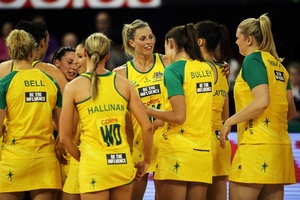 Frustrated, fractured and fallible. These are not great times for the Silver Ferns. After a flat performance in Auckland, they produced a ragged display in Adelaide on Friday, which was a one-sided contest for much of the game.
They struggled to find any rhythm, couldn't cope with the speed of the Australian attack, made a catalogue of basic errors and struggled to adjust to the umpiring (which left a lot to be desired).
The final margin of 58-50 flattered the visitors, as the Australians seemed to ease back in the fourth quarter, knowing the game was already won.
The effect of such a victory can't be underestimated.
After tomorrow's night match in Melbourne and the final test in Canberra on Sunday, they won't meet again until the Commonwealth Games next year (presuming both make the final).
Two weeks ago this young Australian side looked to be in a real hole.
They lost badly in the first test, for their fifth successive defeat. Coach Lisa Alexander threw players on like confetti in Invercargill, using 11 of her 12-strong squad in an attempt to find some answers and captain Laura Geitz looked dejected as she was dragged in the second half.
Things have turned. Call it what you want - sparkle, mojo, spring in their step - the Diamonds have got it back and will only get better.
"I thought we could win but probably not by that much," said Alexander. "We took our opportunities well."
Said Geitz: "We can take a lot of confidence away that we were ahead and we kept that lead for the entire game."
Since the third quarter in Invercargill, the high point of the series for the Ferns, the New Zealand side have out-scored the Diamonds only twice in nine quarters.
There are problems aplenty. It is a bumpy road to get the ball through the court to their shooters, while the Ferns also struggle to maintain a decent defensive screen for extended periods (at one stage the Diamonds managed 23 consecutive goal attempts without a miss).
Neutral umpires from second-tier nations often struggle and there was some woeful decisions, including at least five centre-pass infractions against New Zealand that killed occasional moments of momentum. But it is a sport where the umpires are all powerful and you have to adapt; Australia did, New Zealand couldn't.
"The Auckland errors were errors that we made rather than umpire judgements - the breaks, the delaying play, the steps - they are a bit more difficult," says coach Waimarama Taumaunu. "We will have to work out how we deal with those."
Captain Casey Kopua said her team was frustrated, but had to move on.
"It's about trying to adapt to that and still play our own game."
There are some mitigating factors. The inexperience at wing attack is proving costly and putting too much of a load on Laura Langman. She had a game high 14 assists on Friday, but the next four top feeders were all Australian. The return of Liana Leota and Camilla Lees to the mix next year, as well as the experience gained by the current trio, should help in Glasgow.
After a training game today, the Ferns will have video sessions, analysis and soul-searching as they try to get back on track before Melbourne tomorrow night (10pm NZT).
"The only good thing about losses is that they do highlight what needs working on," says Taumaunu.
"I think our ability to cope with the physical nature of bringing the ball through the court and to slow the Australians down - they will be the two things we will be taking away."