The Kiwis cheering for Team NZ have no doubt made their peace after defeat by Oracle in the America's Cup. We know now whether the All Blacks defended their Rugby Championship title. Andrew Alderson looks at three more teams loyalists can place their sporting faith in.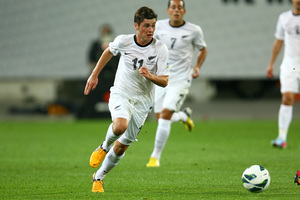 All Whites
2013 GOAL: Qualify for next year's World Cup
Need to: Win two-leg playoff against fourth-placed Concacaf team (likely to be Mexico, Panama or possibly Honduras)
When: November 13 'over there' and November 20 in Wellington
Can they do it? A fair chance. Will probably require conservatism on New Zealand's part, but the Ricki Herbert-coached side is no stranger to such a policy. Exhibit A: 2010's football showpiece where draws were eked out against Slovakia, Italy and Paraguay.
The All Whites will play matches against American and Mexican club opposition to prepare, which is hardly ideal. The prospect of a match against world No85 Trinidad and Tobago is being pursued.
The pressure is on Mexico (world No21) to earn the right to play New Zealand as the fourth-placed Concacaf qualifier. They recently went through three managers in a week. Mexico are fifth and risk missing the World Cup finals for the first time in 24 years.
They play Panama at home on October 11 before a final showdown in Costa Rica on October 15. World No35 Panama have never made the World Cup finals, so could be anxious.
Significance if they do?
Shrugging off history and qualifying for back-to-back World Cups would be an extraordinary achievement. Making it in 1982 and 2010 were milestones because of their scarcity; adding 2014 would be surreal, especially as the 67th-ranked team in the world. To win across two legs in November would upset the form guide considering the respective preparations. Concacaf sides have been subject to regular and rigorous competition since February. In contrast, the All Whites had two games in March, against New Caledonia and the Solomon Islands, and friendlies against Saudi Arabia and the United Arab Emirates at the recent OSN Cup.
Silver Ferns
2013 GOAL: Defend Constellation Cup against Australia
Need to: Win best-of-five series; currently 1-1
When: Tomorrow (Melbourne) and October 13 (Canberra)
Can they do it? Certainly, but don't expect to have any fingernails left. Duels have been legendary over the past 10 years, to a point where in 45 encounters across every major Australasian city as well as Manchester, Kingston, Delhi and Singapore, New Zealand lead 23-22. There are no signs of that parity changing. Close contests have become the norm; 60 per cent (27 out of 45) internationals have been decided by five goals or less. New Zealand have the last two Commonwealth Games golds; Australia have won the last two world championships. As Laura Langman told the Herald on Sunday: "They're always classic matches. Both sides tend to bring out the best in each other. They can turn on one mistake or piece of brilliance."
Significance if they do?
It would represent consecutive Constellation Cups for New Zealand and give them an edge building to the Glasgow Commonwealth Games, especially after Australia were beaten 3-0 by England in January. Periods of dominance have been rare.
In the aftermath of the 2003 world champs, the Silver Ferns won eight of the next 10 matches, while the Diamonds won eight of 12 between October 2006 and November 2008. The longest winning streak over the past decade has been just four matches. Since 2007, no team has strung together more than three wins.
Place that in context with other Anzac sporting rivalries. The Wallabies have dominated only intermittently against the All Blacks, 1998-2003 being most noteworthy. The league results are weighted heavily in favour of Australia, as are cricket and basketball.
Kiwis
2013 GOAL: Retain World Cup in Britain and France
Need to: Get through pool play, quarter-finals and semifinals
When: October 27 (v Samoa, Warrington), November 1 (v France, Avignon) and November 8 (v Papua New Guinea, Leeds)
Can they do it? A big ask, given they have won none of their last six tests against Australia. The last win came in the 2010 Four Nations final in Brisbane with a late try. They have beaten England once and lost twice in that period (both losses came in England where the World Cup will be held).
It might be simplifying the situation to pin their hopes on the availability of Sonny Bill Williams but he'd be a catalyst if he plays. We should find out this week.
Ivan Cleary's appointment to assist Stephen Kearney is a coup. He might not be Wayne Bennett - who assisted Kearney to the 2008 victory - but he knows New Zealand players as well as anyone. His absence at the Warriors has been to the club's detriment in the last two seasons.
Significance if they do?
Before 2008, New Zealand had not won the Cup in 54 years and 13 attempts. To repeat would be exceptional after showing few signs of dominance. Given the talent of the Australian squad, a New Zealand victory would prove the adage a great team can be better than a team of great individuals.
A key component to the Kiwis chances will be Simon Mannering's leadership. Hecan knit the group with his measured approach. Others with Mannering in 2008 who look likely to tour - Issac Luke, Jeremy Smith, Manu Vatuvei and Greg Eastwood - also get the chance to ascend to Kiwis legend status.