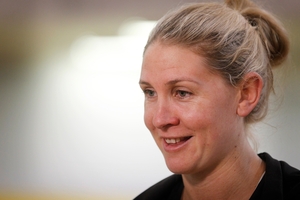 As hard as it is to imagine there was a time when Casey Kopua was rejected by the national selectors.
One of the best players of her generation, Kopua has changed the way we think about defenders in netball. Not only in her outstanding athleticism and agility, combined with a rugged physicality, but also with her ability with ball in hand.
She is now one of the first picked in any Silver Ferns squad (last night's test was her 73rd) and was initially handed the captains' armband at the age of 23. She's naturally talented, hard working and has a phenomenal will to win - so it has all come easy, right? Well, not quite.
The Matamata product was a star sportswoman at school, excelling in everything from athletics to volleyball, touch rugby to basketball. And netball. She fancied herself as a shooter, though coaches would encourage her to play at the back, and she tended to switch between the two.
In her sixth form year (2002) she was invited for a week-long selection camp for the New Zealand secondary schools side, with the team to be picked from trialists across the country.
"It was one of the most intense camps I have ever been to," remembers Ferns teammate Laura Langman. "It was a first taste of what it was all about and I went to bed exhausted every night.
"And it was back to basics; we stayed in a dorm room, in a backpackers and there were people snoring every night."
Langman recalls Kopua playing some games as a goal keep, and others as a goal shoot. Her talent was obvious but was perhaps diluted by the multi-tasking. Still, it was a shock when she missed the cut.
"We were surprised," says Langman. "It was obvious how good back then she was."
Kopua says: "It was my first national trial and I didn't make the team.
"It was pretty hard at the time and at that age. It was difficult to be rejected ... you obviously put your hopes up very high and [as a teenager] you might think it is the end of the road."
Fate intervened a few months later as injury to another player saw Kopua called up. She delivered and was named player of the tournament at a subsequent event.
"We always knew she would be good but she had to realise it herself," says Te Aroha Keenan, who coached Kopua in the New Zealand under-21 team.
Keenan recalls an early youth tour to Fiji where a 14-year-old Te Huinga Reo Selby-Rickett got more court time than Kopua, who was still being shuffled between both ends of the court.
Eventually Kopua gave up on her shooting dream - but it has made her the unique player she is today.
"She has long arms, a great jump, good timing but she is not alone in that," says Silver Ferns coach Wai Taumaunu. "There are other great defenders in our game but no one who has that attacking sense, which is born from her background. She can come up with a game-winning play and great combinations in both areas."
She's also tough. At the 2005 world youth netball championships in Florida she ruptured ankle ligaments at the eve of the tournament and was in serious doubt. But hours of physiotherapy, a sturdy brace and steely grimace saw her return for the semifinal victory over Australia, followed by the final triumph over England.
A year later she famously played the Commonwealth Games final in Melbourne with a broken ankle, incurred in a semifinal the previous day.
"You can't buy the sort of will to win that Casey has got," says Taumaunu.
"She brings it every day to every situation."