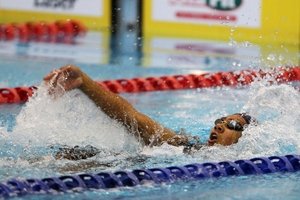 Considering Gabrielle Fa'amausili is one of the brightest prospects in New Zealand swimming, it seems hard to believe she was once scared of the water.
But after nearly drowning during swimming lessons as a 4-year-old, the Auckland teenager didn't rush back to the pool.
"I started learning when I was 3 and I had a [near] drowning accident when I was 4. It was at Cameron Pool where the instructor sort of took their eye off me while I was doing backstroke then I went under," Fa'amausili, 13, said. "So I started sinking and my mum had to save me."
It wasn't until she built her confidence back up at New Windsor School that she dipped her toes back in the pool.
"It [put me off] for like two years and I was scared of the water and didn't want to go in there. But then my mum encouraged me to get back into it and I started learning again and I started learning at my primary school because they had a pool."
Fa'amausili raced to a gold medal in the 50m backstroke at the junior world championships in Dubai in August and is a chance to qualify for next year's Commonwealth Games in Glasgow.
She was in Wellington at the national short course championships this week where she produced a startling upset to win the women's 50m freestyle event ahead of Olympians Hayley Palmer and Lauren Boyle.
Fa'amausili, a Year 9 pupil at Avondale College, also finished second in the 50m backstroke by of a second after she was pipped by North Shore swimmer Laura Quilter.
Fa'amausili has her sights set next year on the youth Olympics, the junior Pan Pacific championships and, ultimately, the Commonwealth Games.
She is going to take some time off as she looks to a summer in the pool ahead of the Games trials in March.
"I'm a couple of seconds off the 100m back [qualifying time] and about a second or so off the 50m free so I'm working towards those and I'm going to try and perfect those over the summer to be ready for the trials."
Unlike the Olympics, the 50m backstroke is contested at the Commonwealth Games, which gives Fa'amausili another event to try to qualify for next year given her specialist events are the freestyle and backstroke sprints.
She is a cousin of Orinoco Fa'amausili-Banse, who swam in New Zealand's men's 4x100m freestyle relay team at the 2008 Beijing Olympics.
Swimming New Zealand's high performance development coach, Donna Bouzaid, said Fa'amausili had the potential to be an Olympian at Rio in 2016.
"The key is when you're the best in your country, you have to look overseas and make sure that you're looking at what the world's best is," Bouzaid said.
"She's got plenty she can work on and she knows that and again, she's willing to learn and develop what she already has strengthened."