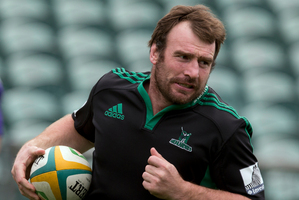 Just as there are many levels of playing ability, so there seems to be varying levels of faith for selectors. A few weeks after All Blacks coach Steve Hansen called Dane Coles the "future" for his team at hooker, he has failed to start him for the second test running.
To be fair to Hansen, the selection of Andrew Hore in the No 2 jersey against the Springboks at Ellis Park tomorrow is a sound one. The 35-year-old has the size, experience and perhaps toughness that Coles is lacking, attributes which will be extremely important in front of a capacity crowd supporting what could be a rabid Boks pack intent on revenge following their disappointment at Eden Park. It will be Hore's 81st cap as opposed to Coles' 10th if he takes the field.
And yet, after not being required in Argentina last weekend - Hansen went with Hore and then fellow veteran Keven Mealamu off the bench - Coles could take to the pitch in Johannesburg for the final 30 minutes or so with mixed thoughts. Praised by the selectors before and after his effort against the Boks in Auckland - the biggest test of his short career - Coles could be wondering just how much faith there is in him when it comes to the crunch.
He was never likely to start in both Buenos Aires and in Johannesburg but must have considered himself a chance to start one or the other.
This is where the psychological skills of the coaches - in this case Hansen - are important. Coles would have been told that nothing has changed, he is still seen as the future, it's just that he is at the start, rather than nearing the end, of his career and game management is crucial for the 26-year-old.
Hansen has gone for his heaviest artillery for this test which has the potential to be the most even the All Blacks will play this year. The Rugby Championship is at stake, and if the All Blacks fail to defend their title, the inquisitions will start for it will mean they failed to score a bonus point while allowing the Boks to score four or more tries.
But, again, the past few weeks have underlined how much the All Blacks have relied on the Hore/Mealamu axis at hooker, and how the national team is in a holding pattern as far as the pair's successors are concerned.
Otago's Liam Coltman, Bay of Plenty's Nathan Harris and Taranaki's Rhys Marshall have each had their turn at All Blacks training camps this year in a bid to improve the nation's stocks, a pragmatic move by Hansen and co but one which must be without precedence as far as the All Blacks are concerned.
This will be Hore's final Rugby Championship test - something which could also have had an impact on Hansen's thinking. He will certainly be missed.
- APNZ