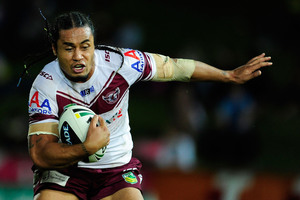 We were told a few years ago that New Zealanders would make up an increasingly larger number of players in the NRL and tomorrow's grand final is an expression of that.
Nine Kiwis - six Roosters, three Sea Eagles - will line up for the grand final.
It is the highest number of New Zealanders to be involved in an NRL grand final, excluding ones featuring the Warriors in 2002 and 2011.
Interestingly, the number of players appearing in the game's showpiece eligible to play for New Zealand has increased by one each year (excluding 2011) since 2008, when there were five. There were six in 2009, seven in 2010 and eight in 2012.
In 1998, the first year of the NRL, only Daryl Halligan flew the New Zealand flag, although Brad Thorn went on to play for the All Blacks and Tonie Carroll had trouble deciding if he was a Kiwi or Australian.
What makes tomorrow's final even more exciting is the fact this year's batch of New Zealanders are also players of considerable influence and the likes of Sonny Bill Williams, Kieran Foran, Jared Waerea-Hargreaves and Roger Tuivasa-Sheck could have a major say on who wins.
It's hoped this trend continues, but the statistics support the growing Kiwi influence.
The number of Polynesians involved in the NRL is estimated to be around 30 per cent. This number increases to 40 per cent in the under-20s competition and a large proportion of them are eligible to play for New Zealand.
Less than a decade ago, Brian McClennan had as little as 45 NRL players to select his Kiwis squad from and it was often a case of who to pick. On Tuesday, present coach Stephen Kearney has a difficult task telling some very good players they have missed out on a place in the World Cup squad.
NRL clubs are literally tripping over themselves to sign New Zealand talent and each club has scouts in Auckland this week to scan their eye over the national 15s tournament as well as the New Zealand Residents 16s and 18s sides. It was the same last month for the national secondary schools championships.
"It's madness, to be fair, because every club is there looking at our kids," NZRL high-performance manager Tony Iro said. "There are some really talented youngsters in that [15s] age group.
"We aren't going to go away and I think there's a recognition from the NRL of our growing influence and they are really keen on working with us to make sure the game is developed on both sides [of the Tasman]."
What will help New Zealand's cause are new rules around State of Origin eligibility, which sees players eligible for NSW or Queensland only if they lived in that state before their 13th birthday or were the son of an Origin player.
International rules are still fairly loose and there are a number of Kiwis who hold dual eligibility.
Among tomorrow's finalists, former Kiwis centre Steve Matai will play for Samoa at the World Cup and Sam Moa will turn out for Tonga and Frank-Paul Nuuausala for Samoa if they miss out on the Kiwis squad. Tuivasa-Sheck was also born in Samoa but is a certainty to make the Kiwis squad and Williams could also play for either New Zealand or Samoa (although there's growing doubt he will even feature at the World Cup).
It used to be a case of New Zealand league fans cheering for the team with the most Kiwis. That's the Roosters. These days there's a fair bit of choice.
- APNZ