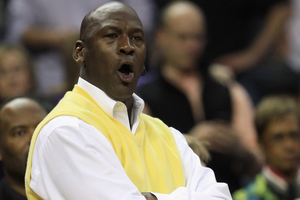 The sporting week in numbers, compiled by Kris Shannon of APNZ
16 - The All Blacks need only a bonus point to claim the Rugby Championship on Sunday morning and that might be a good thing considering New Zealand are without a win at Johannesburg's Ellis Park in 16 years. Their triumph in 1997 is one of only three victories from 11 games at the Springboks' fortress.
51 - If the All Blacks do manage to come away with a rare win they might have the experience and poise of Ma'a Nonu and Conrad Smith to thank. The centre and second five-eighth will set a new world record when they take the field, playing their 51st test together as a midfield combination.
7000 - Despite it being a mere preseason game, the Breakers came close to selling out Vector Arena when they played the Dongguan Leopards on Thursday night. Seven thousand fans packed into the downtown venue, with Auckland's Chinese population turning out in force to watch the CBL side.
15 - Otago's winning streak in Twenty20 cricket came to a close at the worst possible time, with their first loss in 16 games leaving them on the outer at the T20 Champions League in India. With Mumbai handing Perth a heavy defeat to clinch the last semifinal spot, the Volts' were knocked out on run rate.
226 - Laura Langman has played 226 consecutive matches for province and country since 2003, including an uninterrupted stretch of 92 games for the Silver Ferns since her debut in 2005. By comparison, Sean Fitzpatrick managed 51 straight tests and Brendon McCullum has chalked up 77 tests in a row.
145 - By coming off the bench during Manchester United's 1-1 draw with Shakhtar Donetsk on Thursday, Ryan Giggs set a new record for all-time appearances in the Champions League. The 39-year-old surpassed Raul on 144, though he could eventually be caught by Barcelona's Xavi, who has 139.
5 - If Manly take out the NRL grand final on Sunday, it will be yet another day of despair for Roosters captain Anthony Minichiello. The fullback has already been on the losing side in four grand finals and one more will see him become the first player in history with five defeats in league's showpiece.
6 - With the advent of the Australian Premier League, bowls is the latest sport to join two current trends - the shortening of games and a Kiwi side competing in a transtasman competition. The Black Jacks will be one of six teams in the inaugural edition, in which matches will be two sets of five ends.
100 - A year after becoming the first Buller player to score 100 points in a single season, Marty Banks has been even more impressive in the ITM Cup. His 24 points for Tasman against Waikato on Wednesday continued a scoring spree which saw him take only five games to crack the century this season.
1 - He has already made two comebacks in his career but Michael Jordan may be primed for one more. Former NBA All Star Jalen Rose predicted Jordan would play one game for his Charlotte Bobcats this season, though the NBA would need to waive a rule preventing owners from playing for their team.
- APNZ