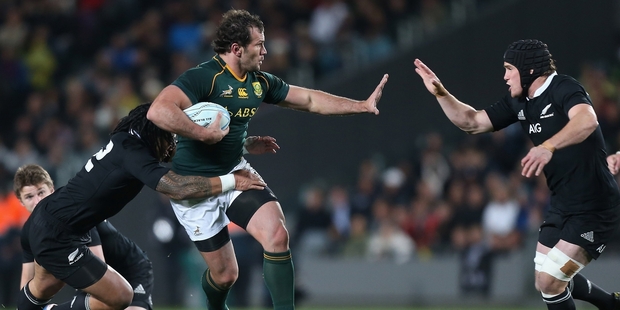 He was born in Bethlehem, a second star for his farming parents and someone who has become a blessing for the Springboks.
Like many who play international rugby there is nothing angelic about Bismarck du Plessis when he runs into international rugby conflict. Nor should there be.
His role demands loads of skilful nerve and more bluster than some local body politicians hawking their credentials.
You fancy du Plessis' work would get admiring nods from men like Sean Fitzpatrick, Phil Kearns, John Smit, Mario Ledesma and Raphael Ibanez who were similar beasts in their test careers.
Like that group, du Plessis uses every fraction of the laws to impose himself and is often loitering a shade over that acceptable line. Before you start unfurling some nationalistic tut-tut finger-pointing routine, remember that Keven Mealamu and Andrew Hore have also been up before the law.
Any back-off in a hooker would inevitably have his coach suggesting he should be playing somewhere in the division behind the halfback.
Hooker is a massive job, the centrepiece for much of a pack's success but often neglected in summaries because it is not one of the glamorous jobs in a rugby side. Not to the general public anyway.
Their focus goes on those running free down the flanks, scoring tries or kicking goals.
That is reality, it is a bit like the kitchen hand and the chef. We know who gets the glory there for a great meal.
Men wearing the No 2 jersey have to have rock hard melons and a spirit to match. That's just for a start because if they waiver in those departments they will be found out in the really tough encounters.
They have to bring a physical edge to cope with persistent inquests in the rucks, mauls and scrums where they hang their frames like gymnasts doing the crucifix.
Then there is the mental onslaught particularly in the lineouts where they have to deal with a variety of weather conditions, the art of throwing and the code-cracking arithmetic and trigonometry needed to find their target.
Easy job eh? Stick your head in a scrum and push then chuck the ball into a mate in the lineouts.
Not so long ago the New Zealand rugby public would cringe and hope when Anton Oliver was throwing into a lineout. The man had stacks of cerebral credit and an iron physique but there was a disconnect between his jumpers and his delivery.
Those flaws ate at other parts of the All Black game and they eroded other components.
So men like Hore, Dane Coles, du Plessis and Adriaan Strauss will be critical pieces of the puzzle that is the Rugby Championship decider at Ellis Park on Sunday.
Du Plessis, the 29-year-old who was brought up in the eastern Free State but has shifted his talents to Durban alongside his tighthead brother Jannie, will take and deliver the initial Springbok onslaught.
Away from their sport the brothers offer much of their time and energy to the underprivileged. They are products of their parents' instructions not to waste their talents. Jannie is a doctor, his brother an insurance agent and both have benevolent bones in contrast to their rugby persona.
They were always hugely competitive in their teenage tussles but more importantly when they were paired together in the frontrow. They may not be the sharpest technically but they are relentless competitors.
They carry the Springbok spirit, they symbolise the drive for success and will be at the forefront of that hope at Ellis Park.