Silver Fern's remarkable playing record is down to hard work and attention to detail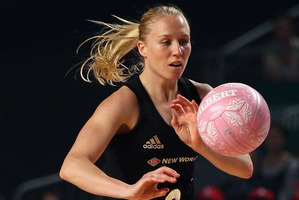 As the Constellation Cup comes to Adelaide, famous as the post-cricket home of Sir Donald Bradman, Laura Langman is 226 - not out.
In the best traditions of Swiss watches, Toyotas and Fidel Castro speeches, Laura Langman just keeps on going.
The 27-year-old has racked up 226 consecutive matches for country and province since 2003, including a 92-game uninterrupted streak at international level.
Her achievement of never having missed a test since her debut in March 2005 is remarkable - and no other New Zealander in a team sport has achieved close to that figure.
Sean Fitzpatrick managed 51 tests from his debut, while Brendon McCullum has chalked up 77 test matches in a row since 2004. For the All Whites, midfielder Danny Halligan figured in 30 consecutive matches after his first, while there has been no one comparable for the Kiwis in rugby league.
Langman has been just as durable at provincial level.
The 27-year-old has clocked 92 consecutive ANZ Championship matches for the Magic since 2008 and before that 42 National Bank Cup games in a row between 2003 and 2007.
The last time she missed a game came just after her Magic debut in 2003 but she was soon restored to the squad and hasn't missed a minute since. Her record comes in an era where the sport has never been more physical, and the Ferns play the Diamonds more than ever before - tonight's match will be the 18th transtasman game since 2010, almost as many as in the entire 1980s or 90s.
"She is a marvel and sets a great example," says Ferns coach Wai Taumaunu. "What stands out is how hard she works and her attention to detail. She does everything to the letter and at maximum capacity."
Taumaunu says there are no shortcuts with Langman. In the regular team running drills, there might be a temptation to stop and turn before the line, or slide to the line. Not Langman, who goes over the line every time. Team insiders point to her work ethic and dedication, whether it is the ongoing commitment to the best physical preparation or her habit of disappearing on 20km runs during the off-season.
"She has great muscle balance and core strength and her technique is always good," explains Taumaunu. "This means the training she does doesn't stress her body and she is in peak condition for games. Laura is mentally very tough, physically a great specimen and works hard to be technically correct."
Langman's rural upbringing on a Te Pahu farm gave a great natural engine, obvious from a young age.
"As a teenager Laura was just like she is now," says Te Aroha Keenan, who coached the New Zealand under-21 team to the World Championship title in 2005 (Langman was captain).
"She was ball of energy and led the way on every fitness test. I remember one play where we kept losing the ball in the circle, it would get flung out and Laura would intercept; she made four in a row."
Apart from a stress fracture in her foot before the 2007 world championships, the midcourter has never had a major injury.
"From a young age I was one of those kids that didn't want to miss out - even when I was injured, I wanted to be out there anyway," says Langman. "You always play with a bit of pain and just push through it."
After a few years of playing second fiddle to Natalie von Bertouch, over the last two seasons Langman has been statistically the best centre in the game. The emergence of Kim Ravaillion in the Diamonds provides Langman with a new marker, and should ensure a great rivalry for many years to come.
In tonight's game the heat will again go on the Ferns' midcourt. Though she was solid defensively, Langman did not reach her own high standards on attack in Auckland, struggling along with Anna Thompson and Courtney Tairi to provide consistent service to Irene van Dyk and Maria Tutaia.
"You have to execute every time you come up against Australia," says Langman. "It is all about continued, repetitive efforts at a high level and that is what we will need tonight."
Four keys to Ferns' success
Start strong
In the second test the Ferns quickly ceded momentum to the Australians, and never regained the initiative. The Ferns are at their best when in front - allowing them to play their natural game - which makes a solid first quarter absolutely vital. "We need to be on from the first whistle," says captain Casey Kopua. "It all starts with good communication and intensity in our warm-ups - getting everyone wired into the game."
Aim for accuracy
It's hardly rocket science, but over the last few years the pure accuracy of Irene van Dyk and Maria Tutaia has won numerous games for the Ferns, as the Australians have struggled to match their success rates under the hoop. The emergence of Caitlin Bassett threatens that trend, which put an increased onus on accuracy from the Fern's duo. "We know if we get them the ball in good positions they will do the job for us," says Laura Langman. "It's about giving them the best possible opportunity."
Restrict errors
Fewer turnovers and more time in possession brings a twofold benefit for the visitors. It limits the amount of extra work that Langman has to do on defence, given she is also the key attacking feeder, with the inexperience beside her at wing attack. It also means the strong Ferns circle defence can become a trump card, as they get to recharge between efforts.
Cut off Caitlin
The Ferns need to isolate the Australian goal attack, whether it is Erin Bell or Natalie Medhurst to cut off supply to Bassett. Both are exceptional talents, but there were moments during the ANZ Championship where they came unstuck with good circle marking. Kopua (1.88m), Leana de Bruin (1.90m) and Katrina Grant (1.86m) have height over Bell and Medhurst (both 1.78m) and need to make it pay.