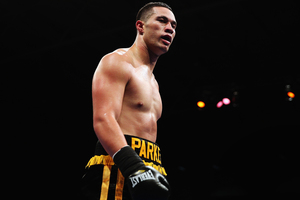 Something appears to be wrong with this picture.
After his flight landed in Auckland from Las Vegas just after dawn today, Joseph Parker has finished several interviews at his plush hotel and is into his second three-minute skipping routine for the cameras.
This particular routine includes 30 seconds of ``double jumping'' at the end of each set. And he still isn't breathing hard, nor has he made a single mistake.
The sweat begins pouring as he shadowboxes but, still, his aerobic capacity seems incredible - it's funny what daily 10km-plus runs and a training regime of more than 130 rounds of sparring will do.
"He's breathing more than he normally would,'' the heavyweight's trainer Kevin Barry says. "He wouldn't be doing that if he hadn't been on that long flight.''
Welcome to the new and incredibly fit world of Parker, the 21-year-old from South Auckland who now lives mainly in Vegas. His next assignment is to challenge 33-year-old Afa Tatupu for his New Zealand National Boxing Federation title at Trusts Stadium next Thursday, a fight which is surely a road bump to bigger and better things for Parker, who demolished Francois Botha in June following a training regime much less taxing than this one.
Both Parker and Barry are excited about the opportunity to show off a new artillery which has been worked on during those endless rounds of training over the past couple of months.
One weapon will be Parker's fitness, but also his increasing size and strength. Weighing in at about 104.5kg, he has put on about 3.5kg since the Botha fight. And then there are the new punching options.
"He has a lot more weapons, he is a much better fighter than when he fought Botha,'' Barry says.
Parker adds: "We've been working on a few things in the gym which hopefully I can show on fight night. They have helped me to become a more complete fighter.
"People haven't seen some of the punches that we've been working on so it's going to be a bit of a surprise. I'm feeling better than I was before the Botha fight... I'm feeling that my body is changing too, and that's due to all the hard work we have been doing in the gym.''
The title is important for Parker, who, with a record of six successful fights under his belt still considers himself a beginner in the professional fight game.
"It is significant. I know where I am in this sport. I am still at the start of my professional career and to get an opportunity like this, I'm excited and grateful. It was one of my goals to get the New Zealand title at some stage and now my time has come.''
- APNZ