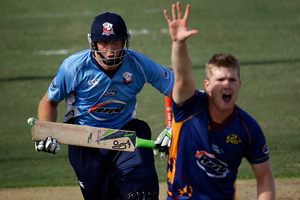 Otago's hopes of making their maiden Champions League Twenty20 appearance were dashed overnight when the Mumbai Indians bumped them out of the tournament.
Mumbai needed a big win over the Perth Scorchers to secure the second semifinal spot in group A and they did just that - winning by six wickets.
Chasing 150 for victory the Indians reached the target in just 13.2 overs to improve their net run rate enough to finish ahead of Otago as both teams ended pool play on 10 points.
Otago left their fate out of their own hands when they lost their final pool match against the Rajasthan Royals yesterday, which ended a 15-game winning streak for the HRV Cup champions.
The Royals will face fellow Indian side the Chennai Super Kings in the first semifinal, while the Indians will play Trinidad & Tobago for a spot in the final.