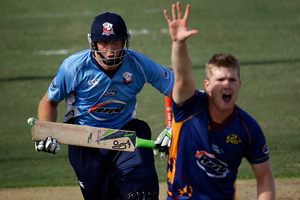 Otago's Champions League fate slipped through their fingers at Jaipur yesterday.
Had they taken their unbeaten T20 run to 16 games they would already have been planning for the semifinals.
Instead the Rajasthan Royals, themselves on a decent winning streak of 12 at their home stadium, eased their way into a home semifinal at Jaipur, leaving Otago to sweat on the outcome of the Mumbai Indians' game against struggling Perth Scorchers early today.
The Royals passed Otago's 139 for seven with five balls to spare, courtesy of a dazzling cameo from Australian veteran Brad Hodge.
The Victorian ripped the game away from Otago, who had scrapped their way back into contention, racing to an unbeaten 52 off only 23 balls.
"It was incredibly disappointing," Otago and New Zealand skipper Brendon McCullum said.
"I thought five overs out we had the momentum and the game for the taking.
Brad showed why he is such a class player and how good he is at finishing."
To an extent, however, Otago had undone themselves. It isn't easy to bounce back from 21 for four, having lost three wickets in one over from unheralded seamer Rahul Shukla. To have reached 139 after that says something for Otago's character.
Jimmy Neesham's star continued to shine, 32 off 25 balls, followed by three cheap wickets maintaining a fine run which could well change his status and his marketability in the shortest form around the globe.
McCullum opted not to bowl his offspinning brother Nathan, or the handy medium pacer Ryan ten Doeschate, which surprised, as seamer Ian Butler had an off-night.
In or out, Otago have given the best account of a New Zealand team in the fifth edition of the tournament.
Mumbai had to beat Perth either by 49 runs should they have batted first, or with 34 balls to spare had they bowled first.