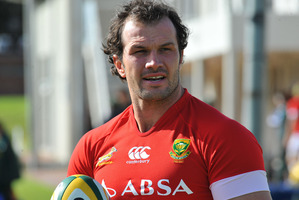 It's like having to choose between two top four-wheel drives. Both big and powerful and able to carry a heavy load. They're also highly sought-after and regarded as among the best in their class; just like Bismarck du Plessis and Adriaan Strauss.
There's no doubting these two Springbok hookers are up there with the best No2s in the world.
Heyneke Meyer must at times wonder what he's done wrong or right - to be in the position he finds himself.
Only this last weekend, Strauss, who started against Australia, played one of his best tests for the Boks before being replaced by du Plessis early in the second half and this weekend when the All Blacks visit Ellis Park for the Rugby Championship showdown the roles will be reversed. Du Plessis will start and Strauss will warm the bench.
The rivalry for the No2 jersey has brought out the best in the two former Grey College pupils, with the hunger to play so much greater now neither is guaranteed a starting spot.
"They're tremendous guys who will do anything to make the Springboks a success," said Bok forwards coach Johan van Graan. "Having two of the best hookers in the world in our team is a massive positive for the side."
Similar in a lot of respects in their powerful scrumming, strong ball-carrying ability and deadly accurate throwing in the lineouts, they are very different characters and operators on the field. Du Plessis is certainly the more fiery of the two.
"We've won 96.7 per cent of our lineouts in this year's Rugby Championship," said Van Graan.
"Bissie's performances against England [in June] last year, before his injury, were world class. Then Adriaan took over and played some of his best rugby for the rest of the year. It was then evident to the coaching staff we had two world class players and leaders among us."
With both men still on the right side of 30, Springbok rugby is sure to be well served for a good few years yet. The All Blacks, on the other hand, have to be content with the entry-level Dane Coles and vintage Andrew Hore and Keven Mealamu as their choices at hooker this weekend.
- Independent Newspapers, SA