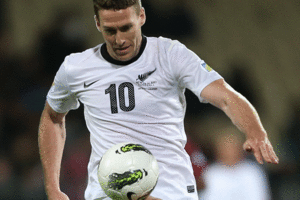 The All Whites are close to finalising a deal to play Trinidad and Tobago later this month in their final hitout before November's World Cup playoff, but will have to do it without striker Chris Killen who has undergone Achilles surgery.
New Zealand Football have been chasing an international game for the October window for months without success but are understood to be close to a deal to play Trinidad and Tobago in Port of Spain on October 16 (NZT). The match is likely to be tagged onto others against MLS outfit Chivas and Mexican club side Queretaro FC in Los Angeles.
It will see three games in seven days and, given the first will be outside the international window, will probably see coach Ricki Herbert take a bloated squad of 22 players.
It will likely see a recall for striker Rory Fallon, who famously scored the goal to send New Zealand to the 2010 World Cup but who hasn't played an international since last year's disastrous Oceania Nations Cup campaign.
He is a handy player to bring into the squad, especially given the number of injuries afflicting New Zealand's top strikers. Chris Wood is nursing a hamstring strain, Marco Rojas broke his foot playing for Stuttgart and Shane Smeltz will miss the start of the A-League season after surgery to repair a troubling hip injury.
The trio should be fit in time to play in November's high-stakes playoffs against the fourth-best team from North and Central America for a place at next year's World Cup but Killen will be missing after undergoing Achilles surgery.
Killen, who has played club football in China for the past three years, has been a crucial ingredient of the All Whites squad for the past decade and scored the only goal in the recent 1-0 win over Saudi Arabia.
That game saw the All Whites qualify for the final of a four-team tournament, the OSN Cup, which also featured Trinidad and Tobago.
NZF have been trying for months to secure a game against Concacaf opposition to help them prepare for the World Cup playoff, which is likely to be against world No 21 Mexico.
It has often proved a fruitless search, however, with many countries already out of World Cup contention having little appetite to play a game against low-profile opposition like New Zealand and also pick up their costs.
Few are also likely to go out of their way to help the All Whites if it comes at the expense of a fellow Concacaf nation. Some estimates suggest failure by Mexico to qualify for the World Cup would cost the tournament upwards of US$600 million ($725 million).
Trinidad and Tobago, who are ranked 85 in the world, are understood to be on the lookout for a home game to help raise funds for the family of national defender Akeem Adams, who suffered a near-fatal heart attack last week while playing for his club side in Hungary.
NZF had originally hoped to play an international in Central America and then another in New Zealand four days later to replicate what they will face in November but had to downgrade their ambitions because of costs and a lack of willing opposition.
There are no guarantees they will play Chivas and Queretaro if the game against Trinidad and Tobago doesn't materialise, which would be a huge blow ahead of New Zealand's biggest game every four years.
- APNZ