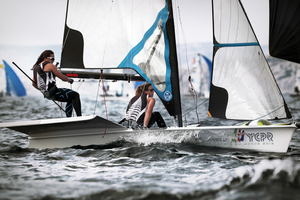 Talk about famine to feast; until a few weeks ago New Zealand's Olympic class sailors hadn't won a world title since 2008.
That was the year RS:X boardsailor Tom Ashley won the world champs to go with his Olympic gold in Beijing.
Now, in the space of eight weeks, New Zealand sailors have won three.
Yesterday Alex Maloney and Molly Meech in the inaugural 49erFX class, and Peter Burling and Blair Tuke in the 49er, won world titles at Marseille, to follow Olympic champions Jo Aleh and Polly Powrie, who won their 470 crown in La Rochelle, France, in the second week of August.
Throw in a silver medal for Marcus Hansen and Josh Porebski behind Olympic silver medallists Burling and Tuke yesterday and it's been a bumper period for New Zealand's Olympic programme.
"To have got three medals, and the colour they were, is an outstanding achievement," Yachting New Zealand's high performance director Jez Fanstone said yesterday.
All three crews have produced strong results this year. Fanstonewas not surprised at the success but was chuffed at the sailors' ability to make it count having done the hard work going into the gold medalraces.
"To put it all together at that time on that day at the worlds and convert what they've worked for into the results they are capable of, you couldn't have asked for any more," Fanstone said.
Maloney and Meech have been among the pacesetters in their class all year. They bagged wins at Sail Melbourne, Sydney International and Hyeres in France, were second at the Palma de Majorca World Cup in April and third at the European championships.
"A lot of girls were in the hunt the whole time so it feels good to stay on top for the last day," Maloney said yesterday.
The women, both 21, have plenty of progress to make, Fanstone added.
Yachting NZ wanted to see signs of solid progress this year. The first stage of Olympic qualifying for Rio in 2016 is next September, at the ISAF worlds in Santander, Spain.
Fifty per cent of Olympic spots are decided there - for countries, not specific sailors - so the importance of positioning themselves this year should not be underestimated.
Tuke - who with Burling won the European 49er title and the Youth America's Cup in San Francisco this year - yesterday spared a thought for sailing events last week too.
"It's a little bit back for New Zealand after last week and make some people smile back home. It's been a pretty special day," he said.
The final day consisted of three races with double points.
Maloney and Meech extended their advantage to win by 20 points; Burling, 22, and 24-year-old Tuke were 12 points ahead of Hansen and Porebski, 20 and 21 respectively, and it stayed that way.
The women's Laser Radial starts in Rizhao, China, today and the men's Laser worlds start in Oman in November.
Ruling the waves
*Alex Maloney and Molly Meech, and Peter Burling and Blair Tuke led their respective classes into the final double points day and stayed in front to claim comprehensive world title wins.
*The women won the inaugural 49er FX crown; for the men it was their first Olympic class world title.
*Olympic qualification starts at the ISAF world champs in Santander, Spain. next September.