Bitter about Chelsea days, Benitez fronts up in England with his new Napoli team.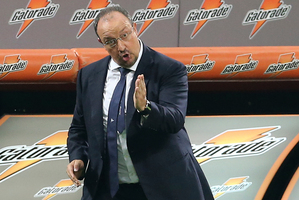 Rafael Benitez gives the unmistakable impression that Chelsea did not deserve him. He couches it, of course, in his customary geniality, but as he luxuriates here in Naples he makes it plain that Stamford Bridge is one place to which he feels no enduring attachment.
Gazing out on the coastline of Castel Volturno, a golf course on the doorstep and Mt Vesuvius in the background, why should he?
"All through my career I felt I was really fortunate, because I kept good relationships with my clubs - Tenerife, Estremadura, Valencia, Liverpool," he explains. "Chelsea, though, brought a special set of circumstances."
At face value, his spell in SW6 yielded success: the Europa League title, a winning record of 58 per cent across 48 matches, and a buttressing of his managerial reputation. But in terms of pleasure it was sorely lacking: six months of untold grief in which he could never shed the "interim" label and where a minority of Chelsea's own fans continued to scorn him as a "fat Spanish waiter".
Benitez is clear that the opprobrium flowed from his past successes against the club with Liverpool, whom he twice steered to Champions League semifinal victories over Jose Mourinho's Chelsea.
"I can't change what we did or what we achieved in our results against them," he says, during a break in preparations for his return to England tomorrow, when his new team travel to play Arsenal at Emirates stadium. "All I did was to be professional."
But those unpleasant memories have been shelved in a matter of weeks as he embraces his role in charge of Napoli, already ruffling feathers among Italy's more established powers this season with a spell at the Serie A summit. "Here you can see from day one that the fans are excited," says Benitez, adored in the fashion he once was at Liverpool.
"In terms of the passion for the game and the way people feel about the club, I think the two places are very similar."
The traditional blue-collar profile of Napoli's support base also fits with the mantra he used to uphold on Merseyside - "the people are workers, therefore they are fighters".
And the challenge to the traditional Italian hierarchy also has echoes of the two La Liga triumphs he accomplished at Valencia in spite of the Barcelona-Real Madrid duopoly.
"We have to take it one step at a time, but I have a lot of confidence in this squad," claims Benitez, seeking to control the expectations of the local fans, tifosi, booming his name at the cavernous Stadio San Paolo. Indeed, so effusively has he been embraced that he is said to be appearing in the club's "Christmas comedy" later this year. "Come the end of the season I feel that we can be close."
The vision for a revived Napoli, rekindling their late 80s zenith with Diego Maradona, was sold to him over dinner at the Dorchester in May with their charismatic film-producer owner, Aurelio de Laurentiis.
"That was a key factor for me in terms of my decision," he reflects. "He illustrated to me his idea, what he wanted to do. You can see by coming here, watching the players we have, that everything is going in the right direction."
Chief among these talents is Gonzalo Higuain, the Argentine striker whom the canny de Laurentiis enticed to southern Italy from Real Madrid, directly from under Arsenal's noses. Napoli, just like their European rivals in north London, needed a world-class striker to help accelerate their ambitions and tomorrow's confrontation promises to give the Emirates crowd a tantalising glimpse of what they're missing. The Partenopei persuaded Higuain that after the departure of Edison Cavani for Paris St Germain, he would be Napoli's marquee figure, and the plan worked spectacularly.
"It was crucial," Benitez says. "We had to convince him that he would be a star here, that he would be a crucial player for the whole team. We know that he is the type of player who can make the difference, if everything around him is set up exactly right. He was the extra ingredient we were looking for."
Benitez could scarcely be more content with his Napoli squad, comprising as it does Slovakian playmaker Marek Hamsik - of whom he recently suggested Gareth Bale was a mere high-price imitation - and a familiar face from his Liverpool days in goalkeeper Pepe Reina. Small wonder that the manager has earmarked his compatriot for the captaincy.
"When I found we could bring Pepe here it was fantastic, because I was reuniting with someone who knows what I want, and who knows the way I work," he says. "He's a great person, and a very good professional, too."
It's useful Benitez has discovered a friend in Reina, otherwise his existence here could be conspicuously solitary. Finding himself mobbed on his forays to the centre of Naples, he chooses instead to live in a small apartment beside the training ground on the Campania coast. It's a stretch of shoreline that's seen better days; the walls of the neighbouring Grand Hotel Pinetamare are peeling, while the town of Castel Volturno is notorious for its Nigerian mafia.
The distance from his home on the Wirral, where his two daughters Claudia and Agatha are still at school, is a strain, but Benitez regards it as a vast improvement on those fallow post-Inter Milan months where he was reduced to updating his website and the occasional slot of TV punditry. "Always you like to be close to your family, but I'm serious about my work and they know this is a great opportunity for me," he says.
For now, Benitez's surrogate family are Napoli and their sky-blue army of disciples, whose feverish cavalcade arrives in full technicolour in London tomorrow. "It's too early to say what we can achieve," says a circumspect Benitez. "But I have a great feeling about this."