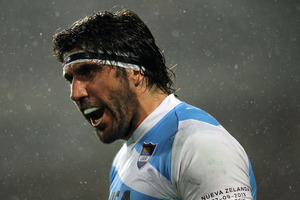 Juan Martin Fernandez Lobbe's face said it all afterwards.
It contained a mixture of exhaustion and pain, with a bit of bewilderment thrown in. Another test against the All Blacks and another defeat, despite an advantage in terms of set piece quality and penalties conceded.
"They put a lot of pressure on us. That's why they are the best, they just keep putting the pressure on," the Pumas skipper told the television interviewer, who decided to look forward to next week a little bit too quickly for Lobbe's liking.
"Are you looking forward to playing Australia in Rosario," he was asked on the side of the La Plata pitch. "Right now? No. [We are] just looking forward to resting a little bit. On Monday we will look forward to this last game of the Championship and we'll just throw in everything we have, last game, last 80 minutes of rugby."
Lobbe was right to say he wasn't thinking about the Wallabies, because his team have many lessons to learn. They might get up over Ewen McKenzie's struggling outfit, who face a tough travel schedule to get to Rosario from Cape Town, but the gulf between the Pumas and the All Blacks is almost as big as the distance between the two continents.
The key factor is the way the Argentinians perform with the ball compared with the All Blacks. All of Steve Hansen's men look comfortable in possession - even front-rowers Tony Woodcock, Owen Franks, Charlie Faumuina and Wyatt Crockett.
On the other hand, many of the Pumas look like the proverbial cats on hot tin roofs with ball in hand, especially when put under a bit of pressure. Once they were chasing the game in the second half their skills fell away completely.
It is disappointing because they appeared to be developing this part of their game.
Their try against the All Blacks in Hamilton three weeks ago - tellingly the only one against Hansen's men in the Championship - owed much to Francis Saili's mistake but plenty also to the quick and sure hands which transferred the ball to No 8 Juan Manuel Leguizamon at Waikato Stadium.
There wasn't much of that yesterday, just plenty of grunt and forward power and a defence which began well but worsened as the Pumas tired.
Their game plan is limited. It might be enough to beat the Wallabies next Sunday, but it's not likely to trouble the All Blacks for a while yet.