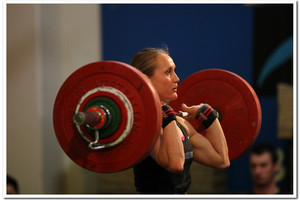 Olympic Weightlifting New Zealand is thanking the rise of CrossFit fitness programmes for renewed interest in their sport.
Weightlifting is a regular on the Olympic programme but can be handicapped by the perception it is a means-to-an-end rather than an end in itself as a sport.
It is not helped by surreal scenes like the 'Minties moment' where Kiwi Graham May face-planted during the 1974 Commonwealth Games or Hungarian Janos Baranyai dislocating his elbow at the 2008 Olympics before being surrounded by a great wall of people forming a privacy barricade.
Cue CrossFit, an intense mix of aerobic work, gymnastics and the Olympic weightlifting disciplines of snatch and clean and jerk founded in the United States at the turn of the century. It involves a swath of exercises from climbing ropes to flipping tyres but it is the Olympic weightlifting component which is enabling anyone from sub-50kg gymnasts to 110kg-plus rugby players realise they could have an Olympic or Commonwealth Games representative future.
The pre-requisites are flexibility, strength and explosive power.
Former Commonwealth Games bronze medallist hurdler Andrea Miller is an example. Miller suffered an injury leading to the London Olympics and used CrossFit to rehabilitate. The high intensity lifting sessions piqued her interest in crossing codes. Miller is based on the Gold Coast so chatted to former teammate and Delhi under-85kg silver medallist Richie Patterson who put her on to Australian coach Miles Wydall. She is aiming to represent New Zealand in the under 69kg class at the Glasgow Commonwealth Games. Miller has a best of 76kg in the snatch and 97kg in the clean and jerk for a 173kg total. She estimates lifting anything from 180-184kg could earn selection.
"After 11 years of the same movement [hurdling] I find the lifting easier. It is explosive and fun."
Miller says going to a CrossFit gym enabled her to make the transition.
"I love going into such a relaxed atmosphere. Rather than people posing in front of mirrors you get short, sharp sessions and a measured change to your body, if done safely.
"Sometimes weightlifting might not be perceived as the most glamorous sport because people think it means you're going to get big. It's a misunderstanding. I'm exactly the same size as I was as a track athlete, but in better shape if anything."
Patterson is the country's top lifter, having attended the last two Olympics. He took time off after the London Games to open his own CrossFit gym in Albany, seizing on the fitness zeitgeist. The 30-year-old says it's driving athletes into weightlifting.
"They're realising the skills involved using their mobility, rhythm and speed to create power. CrossFit was initially not taken that seriously but exposure on social media where the likes of smaller women around 60kg are doing these lifts makes the sport more accessible."
OWNZ high performance manager John Moss agrees.
"The CrossFit growth has been exponential. It's a worldwide craze rather than just a fad."
The Patterson-trained Pip Hale is a case in point. Hale came from gymnastics and is ranked fourth in the Commonwealth in the 53kg class. Strong performances at the national championships in Christchurch on October 4 and 5 and at the Commonwealth Championships at the end of November should have her in contention for Glasgow.
"Her background enables her to get under the bar fast," Patterson says. "You need that speed. Any hesitation and you will fail."
Moss believes with a bit more organisation and goal-setting OWNZ can build a legitimate system developing athletes from ages 15 to 25.
"We've got to be realistic with voluntary coaches and administration staff. Without taxpayer funding through High Performance Sport New Zealand, we're not going to win the numbers battle over the likes of rugby and league but we're working towards a more structured secondary schools programme to give us the talent we need. The youth Olympics are helping as a motivational tool.
"Ideally, elite athletes are 10 years in the making. You've got to be careful [about putting excessive strain on muscles too early]. If you've got a good coach there's nothing to worry about."