But the Warriors have not had a good return from past UK buys, writes Michael Burgess.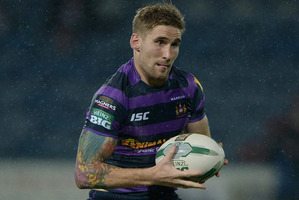 If getting Sam Tomkins to Mt Smart was a coup, then getting the expected level of performance out of the British star will be the next challenge for the Warriors' brains trust.
The former Wigan fullback will be under the microscope more than any other Warriors player in the last decade.
Players such as Steve Price, Ruben Wiki, Brent Tate and Feleti Mateo arrived with significant expectation on their shoulders but none came via a world record transfer fee (reportedly $1.3 million), as well as an annual salary said to be in excess of $700,000.
It's serious coin, especially on a player unproven in the NRL and represents probably the biggest recruitment gamble in the club's history.
It is well known that it is difficult to attract genuine stars to Auckland, but the cash thrown in the direction of Tomkins might have been enough to turn the head of someone like Cameron Smith, still in negotiation with the Storm over a new contract. Imagine building a Warriors team around the Australian skipper. Or Jonathan Thurston, or Greg Inglis, or Paul Gallen.
At that price, Tomkins will need to be a franchise player, a game breaker, a match winner. It won't suffice that he simply does his job; in Kevin Locke and Glen Fisiiahi the Warriors already have more than capable first grade fullbacks. The difficulty for Tomkins in his position is that much of what he does depends on the players around him; the team going forward, players making half breaks, swift and smooth backline play. For all his ability, he won't be able to shine if he is pinned in his own half, defusing bombs and bringing the ball back into traffic. He will still rely heavily on the playmakers at six, seven and nine, as well as the props, which is why traditionally NRL teams focus their spending in those areas.
Where Tomkins can make a difference is in his involvement. He is a busy player, in the mould of Billy Slater, with a knack for finding the tryline (144 tries in 150 games for Wigan since 2008) and an eye for an offload.
Too many times in the past few years Warriors players poke their head through the line, make a half break, with no one anticipating their run, poised off their shoulder. Brett Webb and Wade McKinnon were good support players but otherwise it has been rare at Mt Smart.
As well as the expectation from the fans, media and stakeholders, Tomkins will also need to perform to earn respect in the dressing room. Such a high salary can create issues; League is not at the level of British football, where players sulk and demand more zeroes on their already outrageous salaries when they hear of a rival's or team-mates' latest increase. However, players are only human. Tomkins is expected to earn significantly more than current top paid Warriors, which includes Mateo, Simon Mannering, Shaun Johnson and Manu Vatuvei.
His team-mates will be supportive - and welcoming of such a talent into their ranks - but he will need to cut the mustard, and quickly. The Titans also strongly pursued Tomkins, to the extent of offering him a deal worth around $800,000 a year but negotiations eventually stalled. According to the Sunday Mail, Gold Coast coach John Cartwright and shareholder Michael Searle had reservations about the huge salary offer, unsure of the impact on the culture of the club and their stars Greg Bird, Nate Myles and Jamal Idris.
The Warriors have had a poor return on big money recruits in the past. Price and Wiki were undoubted successes, as was Tate, despite his stay being blighted by injuries. Matthew Ridge had good moments but never justified his huge salary while Greg Alexander didn't come close to replicating his Penrith form.
The Wigan pair of Dennis Betts and Andy Platt flopped.
Tomkins will need to be special. The heat particularly goes on Dean Bell, the general manager of football operations, who has been the driving force behind the pursuit of Tomkins. Bell has strong connections to Wigan, having spent nine storied years there, winning more than 20 trophies, including seven Challenge Cup titles. He also worked at the Lancashire club and was the head of youth development during the time they first scouted Tomkins.
In April, Bell and CEO Wayne Scurrah met Tomkins and his family in England, as well as Wigan's owner Ian Lenagan. There was interest from three other NRL clubs, as well as from French rugby, but the Warriors always had the inside running, with London-based owner Eric Watson also playing a significant role, and they wrapped up the final details of the deal three weeks ago.
Meanwhile, the Junior Warriors can look forward to a third grand final next week, after an incredible 54-38 win over the Bulldogs on Friday night. The Warriors trailed 34-16 early in the second half before a stunning comeback, scoring six of their nine tries in the second half.
Warriors big money buys
Steve Price, 2005-2010
Gold. One of the best signings in the history of the club, who helped to turn the team around on and off the field. Along with Ruben Wiki, he set new standards of professionalism in training and carried the club through the difficult years of 2005 and 2006.
With Price you expected a captain's knock in every match and he rarely disappointed. Good enough to play Origin football at the age of 35 (in 2009) he set numerous individual records, including 323 running metres in one game in 2007. His standing in the game helped the Warriors gain new respect.
Andy Platt, 1995-1996
A stand out contender for the worst buy in the history of the club. Aside from his marquee level wages, he also had clauses in his contract that allowed for regular trips home for him and his family (paid for by the club). The Warriors also paid for his two pet dogs to emigrate but most galling of all was that future superstar Henry Paul was traded to Wigan in return. Platt never adjusted to the Winfeld Cup and barely made a mark in his two seasons (35 games) at the club.
Ruben Wiki, 2005-2008
Wiki was the true Warrior. Some baulked at the club paying big money for a 32-year-old, but Wiki delivered a massive dividend in the twilight of his career. Aside from his deeds on the field, the 'Kava King' was a great mentor for young players like Sam Rapira, Manu Vatuvei, Ben Matulino and Simon Mannering at the club. At one point in his final season he was the oldest player in the NRL but you wouldn't have known and his performance in his penultimate game against the Roosters in 2008 was the stuff of legend.
Dennis Betts, 1995-1997
Was on crazy money back in 1995, with coach John Monie boasting he was the highest paid player in the world and the figure would even exceed Tomkins' reputed $750,000 salary. Performed slighter better than his compatriot Platt but did little to justify his huge salary and reputation as one of the best second rowers in the world. Was granted an early release from his contract and returned to Wigan after less than three years in Auckland.
Matthew Ridge, 1997-99
Came home after seven years at the Sea Eagles but his three seasons at Mt Smart were dogged by injuries and suspensions. Played some memorable games for the Warriors and contributed 237 points (103 goals, eight tries) but become a liability towards the end. There were allegations of spitting, manhandling a referee and foot tripping among other misdeeds and the captain's armband didn't curb his indiscipline. Less than 40 games was a low return for a $650,000 annual salary.
Other big money signings have included Greg Alexander, Marc Ellis, Feleti Mateo and Brent Tate.