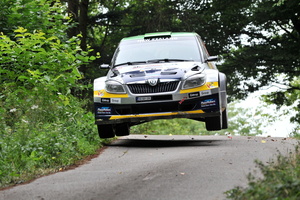 Finally, all the behind-closed-doors chats and to-ing and fro-ing have finished and former world production rally champions Hayden Paddon and John Kennard have been handed the keys to a full-blown works WRC car.
The two will race for the Qatar M-Sport World Rally Team in a Ford Fiesta RS WRC liveried in full factory colours at Rally de Espana.
It's been a long time coming, but through hard work, commitment and some good results recently, Paddon becomes the first New Zealander to compete in a new generation WRC model.
"To say I'm excited is an understatement, but I am also focused on ensuring that we make the most of this opportunity," said Paddon.
"I don't want to just be in a WRC car for a one off event; this is what I want to make my career out of.
"It all happened quite quickly on the back of Rally Australia. We've been trying to get a WRC drive for a while now and the M-Sport opportunity came up quite quickly. M-Sport was interested in doing something with us and helped get us in the car.
"It's a sort of joint effort to do the Spanish round of the WRC. It's the closest you can get to a factory drive with M-Sport and the car has all the official Qatar and Ford livery along with a little bit from our own sponsors."
The opportunity to drive a WRC car against the best rally drivers in the world in comparable machinery is one Paddon and his management team have been chasing.
In his most recent international event, WRC Rally Australia, he was setting times faster than some WRC competitors while driving a less powerful, Super 2000-spec Skoda.
"At Rally Australia it was the first time I felt I was getting everything I could out of the Skoda and wanted it to go faster. The first couple of times in the Skoda it felt really fast but now I'm ready for something quicker.
"It'll be like learning how to handle a whole lot of power all over again. I've had a little bit of time in the WRC car but it'll be good to get some more seat time in it to understand how to use the extra power."
Paddon and Kennard will get about 80km of tarmac testing and about the same amount on gravel to get familiar with the car.
Rally Spain, October 14-17, is a mixed rally event with two days on tarmac and a day on gravel.
Paddon has driven it before, and is looking forward to his return. One good thing for the pair is that several stages will be new to all drivers, so everyone will be on equal footing.
"Naturally I want to be competitive, and we will be trying hard." Paddon said. "We also have set objectives and we have to be sensible on our WRC debut to gain as much experience as possible for the future. "Getting to the finish will be a priority, but we will also target particular stages where I aim to try to set some top five stage times.
"It won't be easy, considering we will be competing against the best drivers in the world [Sebastien Ogier, Mikko Hirvonen Jari-Matti Latvala and fellow Qatar M-Sport drivers Mads Ostberg and Thierry Neuville] - many of who I look up to."
This is a great opportunity for Paddon and Kennard to let the rallying world know they have the goods to compete at the top of the sport.
As a former world champion Paddon knows the pressures that will be on him.
The October weekend in Spain is very much their chance to showcase what they can do in an effort to move further forward in the sport.
"I cannot thank everyone in New Zealand enough, from our partners and shareholders, who are behind me all the way, to my family, friends and fellow competitors," said Paddon.
"Everyone has had such a big part to play and now we have our chance."