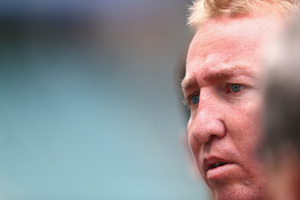 Trent Robinson admits reports linking members of his Sydney Roosters squad with performance-enhancing drugs could not have come at a worse time.
The NRL minor premiers, having enjoyed an almost flawless first season under coach Robinson, were thrown into turmoil just 48 hours before facing Newcastle for a place in the grand final.
It was reported on Thursday that the club sacked a company hired late last year to help fine-tune detox diets and that blood records of six players ended up on the cellphone of an organised crime figure.
The decision to stop using Nubodi came after the players, including Boyd Cordner, Kiwi candidate Roger Tuivasa-Sheck and Sam Moa, returned blood test results with elevated readings for human growth hormone (HGH).
The trio were later retested by the club and cleared and there is no suggestion they acted improperly.
Robinson said the headlines were uncomfortable for everyone at the club but he insisted it would not derail their push for a first premiership since 2002 which continues in their semifinal against the Newcastle Knights tonight.
"It wasn't what we needed yesterday, but it is what it is. We've dealt with it, talked about it and know what's required tomorrow night," Robinson said yesterday.
"I'd like to think it can galvanise the team, but we have to show that tomorrow night. We're happy how we've handled things and we'll see if we're strong enough."
The 36-year-old, who is in his first season as an NRL coach, questioned the report's timing and was unhappy the players' pictures were splashed across the papers.
"Having Boyd, Sam and Roger on the front of the paper linked with performance-enhancing drugs was bitterly disappointing," he said. "These are upstanding young men and they are under our control. But they were very strong.
"But it's hard for people's families to see them on the front page. Roger is a 20-year-old kid and a lot of our players were worried about him.
"But he is a strong kid who has done a lot of good for his area in New Zealand. If my little fella grows up to be like Roger Tuivasa-Sheck, I'll be very happy."
Robinson insisted the club had nothing to hide and he expects no recriminations from the NRL or Asada further down the line.
Newcastle skipper Jarrod Mullen does not believe the controversy will be a distraction for the minor premiers tonight.
"They'll be ready to play. They're the minor premiers. They've got a great team, so they'll be coming hard to play," Mullen said.
Regardless, the veteran five-eighth said the Roosters would be the ones under the most pressure to perform.
"They're the red-hot favourites going in," he said. "We're going in as the underdogs and that's the way we like it. No one expected us to win the first round [of finals against Canterbury] and definitely no one expected to win last round [against Melbourne]."
- AAP