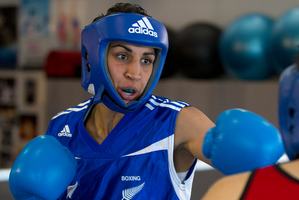 Alexis Pritchard thought she was pretty good at hockey. Her Auckland Girls' Grammar team used to do pretty well. When school ended she joined the Western Districts premiers, and her hockey career went backwards - quite literally.
As she struggled she found herself pushed further and further down the field, until finally she was made goalkeeper. She was a terrible goalkeeper, the team losing every game with her as the last line of defence.
Time to try something different, then.
At first boxing was great fitness training. Then she learned technique. Then she fought for real. She was a better boxer than hockey player. Much better. Last year she went to the Olympics, one of the two female fighters in New Zealand's boxing contingent. Pritchard fought well, winning her first fight to move within another win of the medal round. She didn't get there, but showed enough potential to be rated a medal chance in Rio in 2016.
Backed by $90,000 from High Performance Sport New Zealand, Pritchard is the country's only funded boxer.
"It's more funding than I've ever had over my entire career - the last nine years," she said.
On Tuesday, Pritchard and three other female fighters returned from a five-week trip to eastern Europe. The team did well. Pritchard beat fighters from the Ukraine and Kazakhstan, while emerging talent Niki Arnold beat the French national champion and won a silver medal in her first international competition.
"Our female contingent is so close to being competitive and staying within reach of Europe," Pritchard said.
It's a growing contingent, too.
"Most gyms have seen a significant increase in the number of young girls and women in the gym," said Boxing New Zealand president Dr John McKay. "The women's boxing stole the show in London. There were some very good bouts."
Former IBF welterweight champ Daniella Smith coaches an ever growing group of women fighters at her Boxing Alley gym. She has six fighters under her tutelage (including her 18-year-old daughter) and finding opponents from other gyms is seldom a problem.
"When I first walked into a boxing gym 15 years ago a woman in a gym was frowned upon," Smith said. "There was the odd female throughout the country fighting but women didn't do boxing for fitness. It wasn't the trendy fitness craze we see today."
Smith credits Pritchard's success in London with driving much of the growth in the sport here. Much of that growth has been at corporate level, with most fight nights now including female fights.
"You used to see the odd girl come in to spar. Now we have sessions dedicated to girls fighting," says Boxing Alley coach Monty Betham.
The former Warrior and professional fighter believes getting in the ring has replaced running marathons on many women's bucket lists. The much-derided but highly publicised contest between Jaime Ridge (who was coached by Betham) and Rosanna Arkle had also helped spark female interest in the sport, he said.
"They think if Jaime can do it they can do it. Some of them get proved wrong but they give it a go. It's a huge trend that we've noticed."
Pritchard, though, was none too impressed with the Ridge-Arkle debacle. In the build-up to her Olympic campaign the question she was most often asked was who would win the celebrity catfight.
"Don't get me started. It creates interest I guess but the public are then thinking that is women's boxing. That's absolutely so far from the truth. That is not women's boxing. It upsets me that that kind of show gets such a lot of media attention."