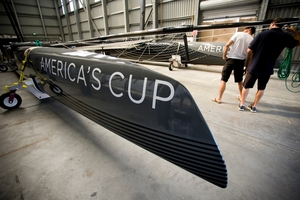 The New Zealand firm that built Oracle's boat has quashed rumours that it sent "legions" of staff to assist on a redesign that helped the syndicate achieve one of the greatest sporting comebacks in history.
The sailing world has been rife with talk that the deep-pocketed syndicate flew 14 boat builders up from New Zealand to make changes to their catamaran after they were smashed by Emirates Team New Zealand in the first week.
Skipper Jimmy Spithill was even quizzed by media about what Kiwi technology was delivered 10 days ago.
But the general manager at Core Builders Composites, Tim Smyth, told the Herald there was "no secret weapon sent up there".
The Warkworth company is a 100 per cent-owned subsidiary of Oracle that built three-quarters of the AC72 machine. It also produced all the wingsails, foils, the cross structure, appendages and most of the custom metalwork.
Mr Smyth said it seemed time to "put all these rumours to bed about us sending legions of people to San Francisco".
Mr Smyth said the facts were:
Over the past two years they had flown people up to help fit parts.
Just before the series began, six were sent to help throughout the regatta because the punishing schedule meant people grew tired and "the extra hands mean the nightshift work gets done without relying entirely on the shore team".
Two people returned within a week, four are still there helping out.
A work trip to San Francisco has been rotated among most staff.
Two or three staff were on holiday in San Francisco.
"So no, there has been no secret weapon sent up there, we delivered the last few parts, [some rudder wings], prior to the series beginning and nothing since then - not even any spare parts as the boat has been very reliable," Mr Smyth said.
At a news conference this week after Oracle chalked up two wins Spithill was asked what Kiwi technology was making Oracle go faster.
The Australian responded: "I don't know what turned up, to be honest. But I'll tell you what, we've got a fantastic team down at Core Builders."
Roosevelt's words
The stirring words of the 26th United States President Theodore Roosevelt on today's front page come from his The Man in the Arena speech. He first used the passage in France in 1910. The declaration has been used to inspire many teams and nations and argues it is better to try valiantly and come up short than do nothing at all. South African President Nelson Mandela gave a copy of the passage to Springbok captain Francois Pienaar before the start of the 1995 Rugby World Cup when the Boks defeated the favoured All Blacks in the final.