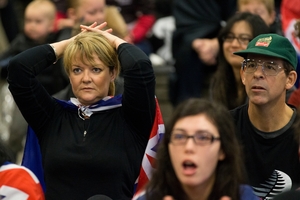 Each morning Lisa Sutton heads down to Shed 10 to watch the racing in her red socks, a flag round her shoulders and a bottle of cold champagne.
She lives in the Viaduct, so can get there early to save spots for the new friends met through following the America's Cup.
At one point more than 4000 other fans cheered with her, but yesterday that number had dwindled to 400 as Oracle put another two points on the board.
But Ms Sutton hasn't lost the faith. Her bruised hands are testament to her conviction.
"Dean Barker said they have an absolute belief in themselves that they're able to win. And we have to have that same absolute belief in them. Whatever happens is going to happen.
"We didn't cheat, we've done it with passion, with pride and charisma - they've just been an amazing role model, we should just be so proud."
Ms Sutton has been at Shed 10 every day since it opened 15 days ago and along the way she's befriended other diehard fans, including a couple who came up from Tauranga, went home at the weekend, but came back on Monday with a campervan. They brought with them a bottle of champagne to pop, fingers crossed, when Emirates Team New Zealand win.
Ms Sutton has been taking the bottle home each day to chill and brings it back the next.
"It's funny, we're not religious but we're praying and we're not superstitious but every day we turn up in our red socks - that's what it does to you."
She'll be back at Shed 10 this morning, and the day after if it gets called off, and the day after - every day until someone wins.