However before you write off Team NZ, wonder galloper Tulloch did do the impossible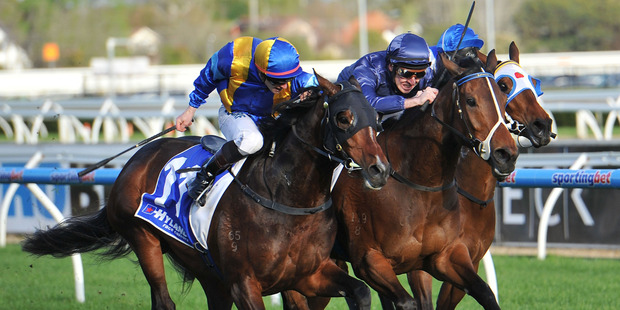 If Oracle get over the top of Emirates Team New Zealand - and even our TAB is reluctant to punch out a ticket on that happening - it has to be the greatest comeback in sporting history.
There is a horse-racing equivalent.
Tulloch.
The Cambridge-bred wonder machine - the best horse since Phar Lap - came from further back than Larry Ellison's mean machine.
That's if you consider death a worse option than 8-1 in an America's Cup.
Tulloch, trained by the legendary Tommy Smith, was a freak.
As a 3-year-old he beat genuine group one horses by 12 and 15 lengths without breaking a sweat.
No disrespect to his modern day look-alike in Black Caviar, but the wonder mare did it with the world watching on television.
Unless you were at the races in the late 1950s, you saw black-and-white newspaper photographs of the top horses.
That's night and day in getting a fan club going.
As the biggest international offers in turf history were being made and rejected for Tulloch, disaster struck.
The four-legged wonder developed a mystery stomach ailment and scoured so badly lying in his Randwick horse box for 18 months even his greatest admirer, Tommy Smith, couldn't believe he didn't die.
Nothing would stay in his stomach and even when that started to improve after a year and a half, no thought was ever given to the prospect of the bag of skin and bone racing again.
After nearly two years away from the track, Tulloch reappeared at Flemington in March 1960 to take on Melbourne champ Lord and beat him a short head in a match-race.
He was never the same horse, but won 15 of his 24 comeback races.
It's grim on the water, but never say never.
• Think 20 years down the line.
What sort of records will Zabeel have as a broodmare sire?
He's done everything he can do as a stallion and he's still going, but he'll probably eclipse all that as a sire of broodmares.
A 1-2-3 dam sire result in Saturday's A$400,000 Underwood Stakes with It's A Dundeel, Atlantic Jewel and Dear Demi is spectacular.
Throw in sixth-placed Silent Achiever - still on the improve - and it's freakish. With today's stake levels comparisons are misleading, but percentages are not.
In terms of percentage of stakes winners to starters Sir Tristram has a level of 5.7 per cent, with Danehill at 5.2 per cent.
Zabeel has a remarkable 11 per cent and that figure is unlikely to diminish and may well rise significantly.
Understandably, Cambridge Stud's Sir Patrick Hogan is delighted.
"It's very rare that a stallion still standing at stud has the record he's achieving.
"He has yearlings on the ground now and forgetting the ones that might still come, these fillies now will be producing horses as broodmares 19 - 20 years down the track."
•Ellerslie races will definitely be going ahead on Saturday.
Auckland Racing Club racing manager Andrew Castles said Ellerslie had 34mm of rain on Tuesday.
"Our track is just into the heavy 11 zone and looking at the forecast,
I'll be disappointed if the track doesn't come back to a heavy 10 by raceday, provided they are right about the rain."
Te Aroha had 101mm on Tuesday, but indications were last night that tomorrow's races are safe to proceed.