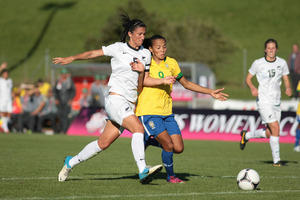 The New Zealand women's football side will chase a first tournament title outside of Oceania since 1975 when they meet China in the final of the Valais Cup in Switzerland tonight (NZT).
The Football Ferns qualified for the final after an historic 1-0 win over Brazil, the first victory achieved by any New Zealand side against the South Americans. It was also the first victory by the women's side against a top-10 ranked side - Brazil are No 4.
New Zealand beat China in two games in this country last year but are ranked three places behind China who are 16th in the world rankings.
As much as they are keen to lift a trophy, New Zealand coach Tony Readings has his eye on the future, most notably the 2015 Women's World Cup and 2016 Olympics, and wants his side to play a possession-based game against China.
"We're been repeating the same message we have been saying all year and that is it's all about our goals for 2015 and 2016." Readings said.
"We need to keep improving but as we get further along the improvement curve we will need to work even harder to take another step up.
"The good thing is we still have a lot of areas we can improve on and a young, hungry team that get even more motivated with every milestone they reach or personal best they set.
"We're working towards a long term goal but we want to win every game we play. We've learned from losses and learned from draws but we would rather be learning from wins. Even in winning performances, there are things we can pick out and work on."
Being more ruthless on attack would be one of those from the Brazil game. Not only did they miss a penalty but they also had other chances to put the result beyond doubt.
"The two obvious things we can improve from the Brazil game are creating chances and, most important for any team, finishing them," Readings said. "We created a number of chances but we still identified a number of opportunities to penetrate the opposition's defence. We could have put the game to bed much earlier and against good teams like Brazil and China one goal may not always be enough."
Readings indicated he wasn't about to make wholesale changes to his side but there may be a few tweaks, including a return of striker Hannah Wilkinson who missed the Brazil match through injury.
"We'll give some players opportunities during the game and Hannah is one player who will be used at some point. She's a great weapon to have available.
"If and when we do make changes, the players we introduce are good enough to make a difference and help us get results."
New Zealand team to play China in the Valais Cup 2013 final at Stade St-Germain, Switzerland, tomorrow morning (3.30am): (from): Erin Nayler, Rebecca RollS, Abby Erceg (c), Anna Green, Elizabeth Milne, Ria Percival, Ali Riley, Rebekah Stott, Meikayla Moore, Betsy Hassett, Katie Hoyle, Annalie Longo, Kirsty Yallop, Helen Collins, Sarah Gregorius, Amber Hearn, Rosie White, Hannah Wilkinson.
- APNZ