Amelia Wade spoke to three experts about what Emirates Team New Zealand need to do to win.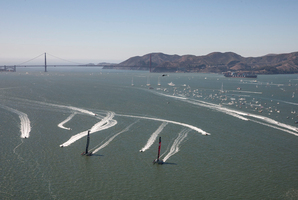 Chris Dickson
One of the foremost names in sailing, said the Auld Mug is still up for grabs by either team - it's just whoever sails better.
"It's as simple as that," Dickson said.
Dickson, a former Oracle skipper, said in the first week Team New Zealand had the "magic formula and the magic boat".
"The first week they looked fantastic, they had a fast boat. Now from here either team can win - but it's the team that sails best is going to win.
"Oracle's doing everything they can to play with Team NZ's minds and brains and Oracle's bringing everything they can to the frontline to try and win this and they're doing a good job.
"And if they keep doing a good job, then New Zealand's got to do a better job.
"My take is that it could go either way. It's sport - the game is so even that it's pure and simple sport."
Dean Salthouse
One tiny mistake is what could win Emirates Team New Zealand - or what could make us lose it, says Dean Salthouse.
But the director of Next Generation Boats said it was important to remember Oracle still had to win three races before they took the Cup.
"I've really felt that right from the word go we were going to win it and it hasn't changed.
"As the pressure gets on, it goes more on Oracle because they've still go to win three - they've got to sail perfectly for three encounters."
He said skipper Dean Barker would be under no illusion that he needed to win the start and that from there, the team needed to handle the pressure.
"It feels like we've done worse than we have because there's been three races now we've had the lead and they've been stopped. So it feels like we've been hammered more than we really have."
Peter Lester
Whoever wins the start, wins the race, says sailing commentator Peter Lester, who is covering the regatta for TVNZ.
All Emirates Team New Zealand needed to do was time their runs to the line, get ahead at mark one then start "defending like crazy", he told RadioLive yesterday.
"It could come down to a good old shootout between crews."