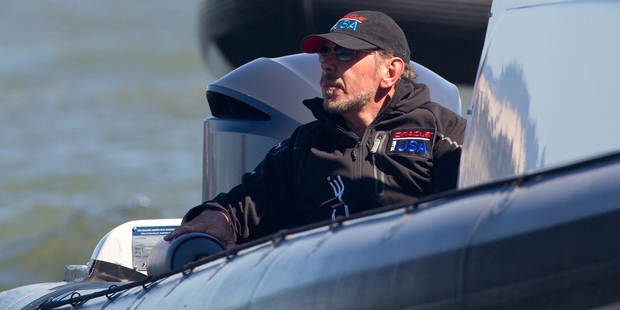 The mind games from the Oracle Team USA camp stepped into high gear yesterday after they dealt Team New Zealand another demoralising blow on the water.
The Oracle team continued their astounding America's Cup comeback yesterday, notching up their fifth straight win to close within two points of Team NZ, who have been stranded on match point for six days.
The Kiwi team are perched on the precipice of one of the greatest achievements in New Zealand sport, but equally they are in danger of succumbing to the one of the greatest chokes of all time.
Knowing the pressure his opposition are under, Oracle skipper Jimmy Spithill did not miss any opportunity to try to get inside the heads of the Team NZ camp.
Spithill has spoken at great length in previous days about the improvements to their boat, and insisted yesterday his team are not done yet. They can still get faster, he said.
Yesterday he spoke glowingly of his crew - in particular his afterguard of British Olympic hero Ben Ainslie and Australian hot-shot Tom Slingsby. The Oracle skipper believes the brains trust on board the boat gives his team a huge advantage over Team NZ, who only have tactician Ray Davies calling tactics.
"The one key difference I see in our afterguard is we have Ben and Tom on the back - two of the world's best sailors that can bounce ideas off one another," said Spithill.
"There's a lot of load there, the helmsman and the wing trimmer are so involved in boat speed, they can't get involved in tactics like they could in the AC45s ..."
Davies later dismissed Spithill's talk as just that - talk.
"That's the way they play the game. Jimmy particularly likes to talk things up and that's how he motivates himself. But that gives us motivation too."
But there is no doubt the energy and positivity is much higher in the Oracle camp. Chief executive Russell Coutts is happily chatting away to US media again and after a week and a half, Larry Ellison's super yacht Musashi has suddenly reappeared back at the America's Cup Park.