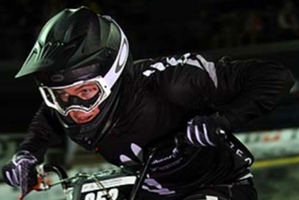 Todd Barry, with a junior world ranking of 19, says he looks up to BMX Olympian Sarah Walker's achievements.
Deciding whether to finish his school year at Hamilton's St Paul's Collegiate early and head to the US to further his BMX aspirations or stay home and sit his Year 13 exams wasn't difficult for Todd Barry. Bypassing his school ball to put that money towards the self-funded trip, a little harder.
Keen to follow the pathfinding ways of Olympians Sarah Walker, Marc Willers and Kurt Pickard, Barry now has the chance to learn from, and test himself against, the best.
He leaves on October 16, faces a low-level competition within days of his arrival followed by a much bigger meet, the Disney Cup, in Orlando, Florida.
From there he will link with US professional Rusty Nesvig for three weeks of intense training in San Diego, followed by time in Houston before training with world-ranked age grouper Hunter Pelham, who has a BMX track in his backyard. Barry will then race at the "biggest meet of the year" - the ABA Grands in Tulsa, Oklahoma, from November 28 to December 1.
"It's the first time I've gone to the United States," said Barry, 17, who has plenty of experience racing across the Tasman.
"Initially my parents were 50-50 about me leaving school and not sitting the exams to go, but now they're 100 per cent behind me."
Barry, who lives at Pirongia and attended St Paul's as a day boy, is not averse to the hard yards which he showed juggling 7am departures for school with his training after school.
Riding BMX for the past 13 years has had its downs - a crash in March in the final of the New Zealand championships - and its highs - selection for this year's world championships at Vector Arena where he finished with a world ranking of 19 in the junior elite class after reaching the quarter-finals.
After mixing rugby - where he was good enough to play a handful of games for the school's 1st XV - and BMX, Barry opted a year ago to give the thrills and spills of BMX a decent shot. "I have two years in the junior elite and if I can make the top eight at the Grands it would be a huge step up," he said.
"Because I'm doing this with just family support, it would be great to have some sponsors on board. If I can produce the results I want over there I hope I'll get that support."
BMX is a big deal in Waikato, with many towns, including Cambridge and Te Awamutu, having a track. There is the camaraderie so-called minor sport engenders to help aspiring riders. Barry is keen to cash in on that and now take his career a step further.
"Sarah [Walker] is a regular at the Cambridge track, which is one of the best in New Zealand," said Barry. "I look up to her for what she has achieved and the inspiration she brings.
"I also get to ride with Kurt and Marc so there has always been plenty of encouragement."
But now the challenge has got a whole lot bigger. As they say, if you don't try, you will never know.
Todd Barry has that chance and the determination to give it his best.
Results
Lacrosse
Auckland SS boys, division one, championship (1-4), Michael Park 11 WBHS 5, AGS 11 Pinehurst 0. Plate (5-8), MAGS 17 Whangaparaoa 3, MRGS 9 Orewa 8. Bowl (9-12), St Kentigern 6 St Peters 4.
League
North Harbour
Premier restricted (under-85kg), Orewa 22 Whangaparaoa 14, Mahurangi 38 Birkenhead 12, TGS default to Rangitoto. Under-15, Orewa 28 Glenfield 8, Massey 18 Hato Petera 14.
Counties Manukau
Under-85kg, Pakuranga 40 Alfriston 8.
Franklin premier competition: Wesley 50 Pukekohe 12, Rosehill 34 Waiuku 12, Tuakau bye. Points, Wesley 9, Rosehill 7, Pukekohe 5, Waiuku 3, Tuakau 1.
Girls
Open Grade XIII, AGGS 18 Aorere 4; Sir Edmund Hillary 14 McAuley 8.
Tennis
Auckland SS finals day
Boys
Senior A1, St Kentigern 7 AGS 2; 3rd/4th, Sacred Heart 6 WBHS 3.
Intermediate A1, AGS 6 St Kentigern 3; 3rd/4th, WBHS 5 Kings 4.
Junior A1, AGS 9 Kings 0; 3rd/4th, St Kentigern 6 AGS 2 3.
Girls
Senior A1, St Kentigern 9 WGHS 0; 3rd/4th, St Kentigern 8 St Cuthberts 1.
Intermediate A1, St Cuthberts 6 St Kentigern 3; 3rd/4th to be played.
Junior A1, final, today St Kentigern v Baradene; 3rd/4th to be played. Semifinal, Baradene 8 Diocesan 1.
Volleyball
Junior girls
Central division one, Lynfield 2 Western Springs 0, AGGS 2 Lynfield 1, AGGS 2 Western Springs 0. Marcellin 2 MRGS 0, Marcellin 2 Diocesan 0. MAGS 2 Onehunga 1, Onehunga 2 EGGS 0, MAGS 2 EGGS 0.
Eastern division one, Macleans 2 Mission Heights 0, Tamaki 2 Macleans 0, Tamaki 2 Mission Heights 0. St Kentigern 2 One Tree Hill 0, Elim 2 One Tree Hill 0, Elim 2 St Kentigern 0. Edgewater 2 Selwyn 0, Edgewater beat Botany Downs by default, Selwyn beat Botany Downs by default.
North Harbour division one, Mahurangi 2 TGS 0, Albany JHS 2 Mahurangi 1, Albany JHS 2 TGS 0. Long Bay 2 Birkenhead 1, Long Bay 2 Carmel 1. WGHS 2 Orewa 0, Northcote 2 Orewa 0, Northcote 2 WGHS 0.
Southern pool one, Aorere 2 Auckland 7th Day Adventist 1, Mangere 2 Aorere 1, Auckland 7th Day Adventist 2 Mangere 1. Otahuhu 2 Manurewa 0, Manurewa 2 Sir Edmund Hillary 1, Otahuhu 2 Sir Edmund Hillary 0.
Western pool one, Avondale A 2 Rutherford 1, Green Bay A 2 Green Bay B 0, KGHS 2 Avondale B 0, Avondale B 2 Green bay A 0, Avondale A 2 Green Bay B 0, KGHS 2 Rutherford 0.
Junior boys
Central/West division one, AGS 2 Rutherford 1, Rutherford 2 Avondale 0. Waitakere 2 Henderson 1, KBHS 2 Waitakere 0, KBHS 2 Henderson 0. MAGS 2 Marcellin 1, Marcellin bt St Peters by default, MAGS bt St Peters by default.
Eastern division one, One Tree Hill 2 Sancta Maria 0, One Tree Hill 2 Edgewater 0, Edgewater 2 Sancta Maria 0. Mission Heights 2 Elim 0, Selwyn 2 Elim 0. Tamaki 2 St Kentigern 0, Macleans 2 Tamaki 0, Macleans 2 St Kentigern 0.
North Harbour division one, Mahurangi 2 WBHS 1, Mahurangi 2 Birkenhead 1, Birkenhead 2 WBHS 0. Long Bay 2 Orewa 0, Long Bay 2 Kristin 0, Kristin 2 Orewa 1. Northcote 2 TGS 0, Rosmini 2 TGS 1, Northcote 2 Rosmini 1.
Southern division one, Manurewa 2 Southern Cross 1, Manurewa 2 Sir Edmund Hillary 0, Sir Edmund Hillary 2 Southern Cross 0.